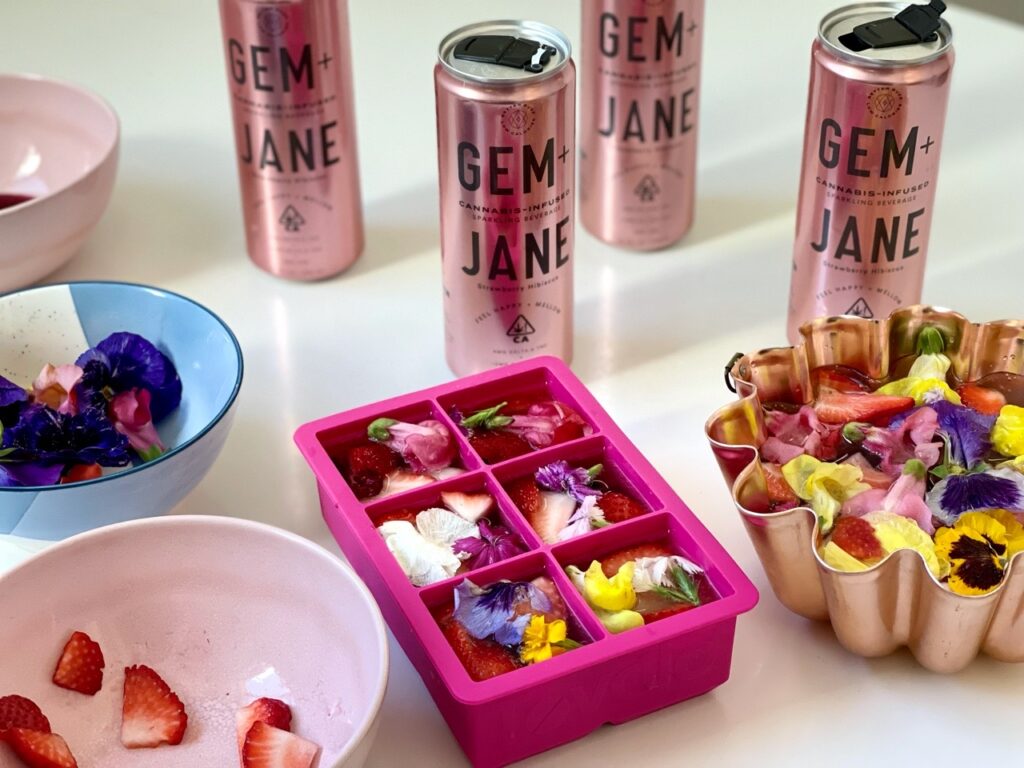 There are few easier ways to elevate the everyday than with floral ice that you can make in advance and keep in your freezer for on-call fancy fun! I like to keep a bunch of fancy ice on hand at all times so I can grab a cube and throw it in a cocktail, mocktail – or even just a glass of water for a super-easy way to add a pop of color and intrigue to the glass, and I was inspired to take my decorative ice to the next level by swapping plain ole water for Gem + Jane Strawberry Hibiscus as my base.
While making fancy floral ice is super easy, it is important to consider how your drink will be served as you plan out your ice. Thankfully, a wide variety of ice molds are available for purchase, but there are only two that I deem essential: square cubes perfect for rocks glasses, and long rectangular cubes perfect for Collins glasses. Because I love entertaining with cannabis, I'm also a devotee of the large-format punch bowl, and love making ice rings and molds featuring a variety of florals, fruits and herbs.
When making ice cubes, there are a few tips to making your ice extra special. First, find edible flowers at your local grocer (or grow your own!). Avoid commercial florals that have been heavily treated with pesticides – these are an ingredient in your drink, and you don't want all of those chemicals in there! I also love adding fresh fruit, and you can play with all sorts of fun looks depending on how you chop the fruits.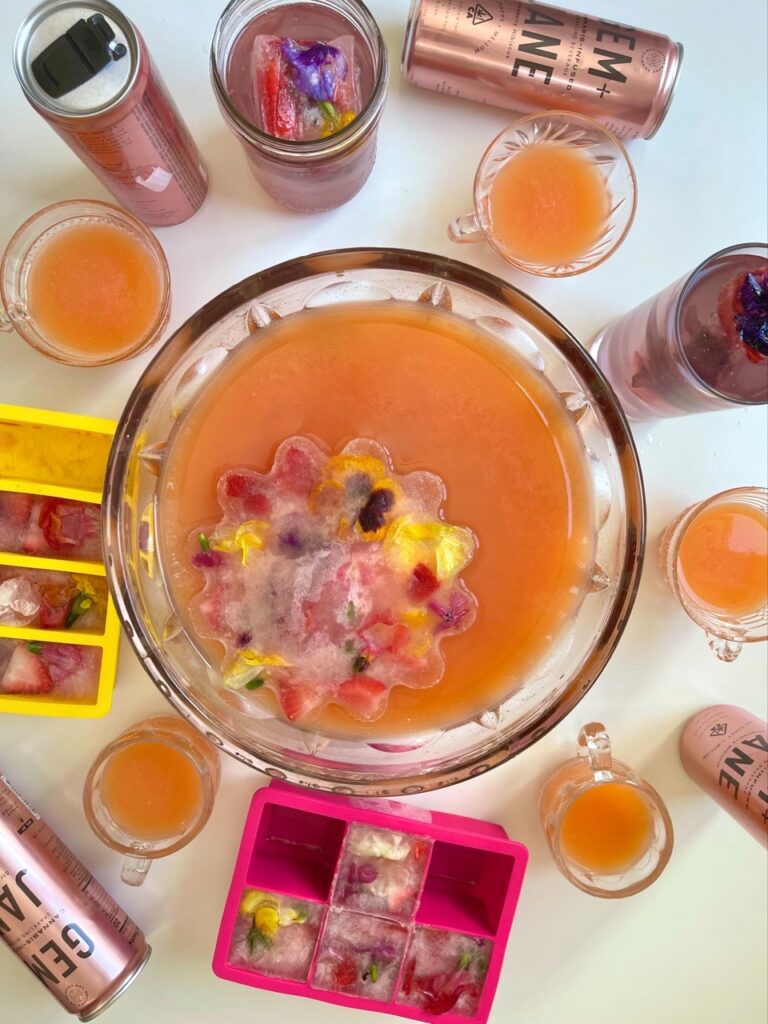 I like to use chefs tweezers to precision-place fruit and florals – chopsticks work like a charm too! – but you can definitely throw in with your hands to keep it simple! I also like to think about the ice in terms of layers, too; heavy things will sink, and florals will float; sometimes, I'll also "sink" some florals under the top layer to add pops of color throughout.
Always consider that the ingredients you put in your ice will also eventually become a part of your drink – especially if you're making a large ring for a punch bowl! As the ice melts, the fruits will contribute flavor, too.
To match the true-to-fruit flavors of the Gem + Jane Strawberry Hibiscus, I simply sliced some strawberries and added whole hibiscus flowers in syrup, a beautiful addition that also added deep pinky-purple colors. The Gem + Jane also features four mg. of Delta-8 THC, and less than 2 mg. of CBD, so as it melts, the ice delivers cannabinoid goodness to whatever you're drinking. I served the Collins cube with a simple glass of water, poured a can of Strawberry Hibiscus Gem + Jane over two rocks cubes stacked in a Mason jar, and used a bundt pan to make a large mold for an easy fruit punch.
Get out there and start freezing!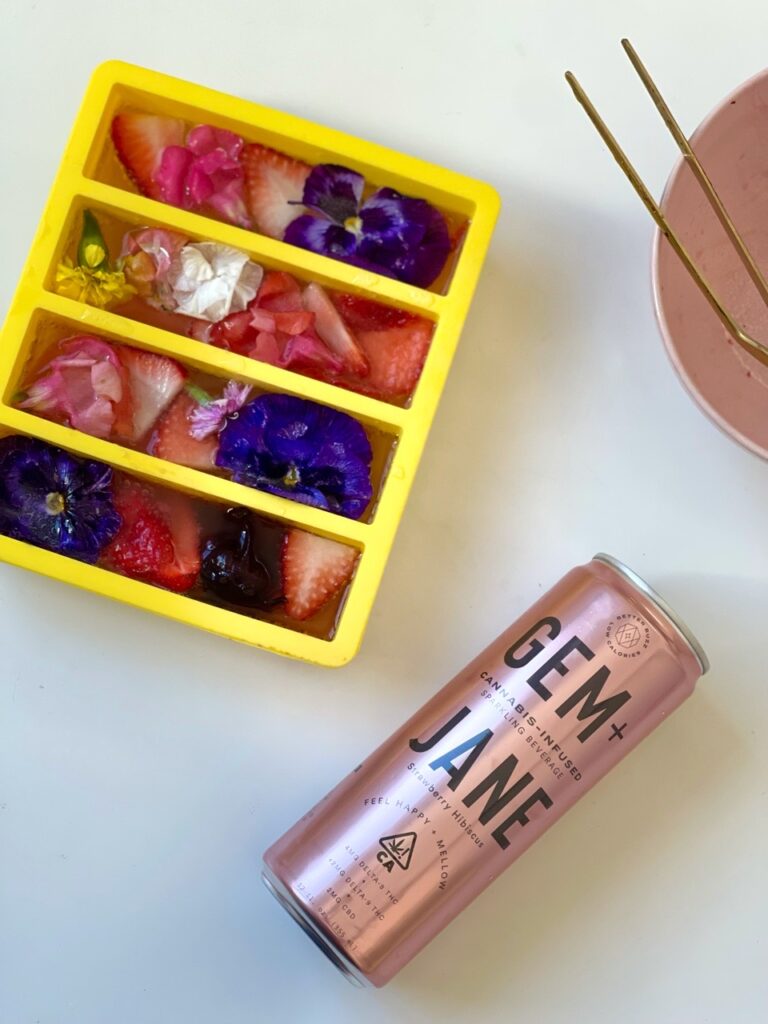 Delta 8 Ice Cubes
Edible flowers
Sliced strawberries
Hibiscus flowers in syrup
Gem + Jane Strawberry Hibiscus
Arrange flowers and strawberries along the bottom of your ice mold of choice. Top with Gem + Jane Strawberry Hibiscus until mostly full. Top and fill with more florals as needed. Freeze for at least six hours.