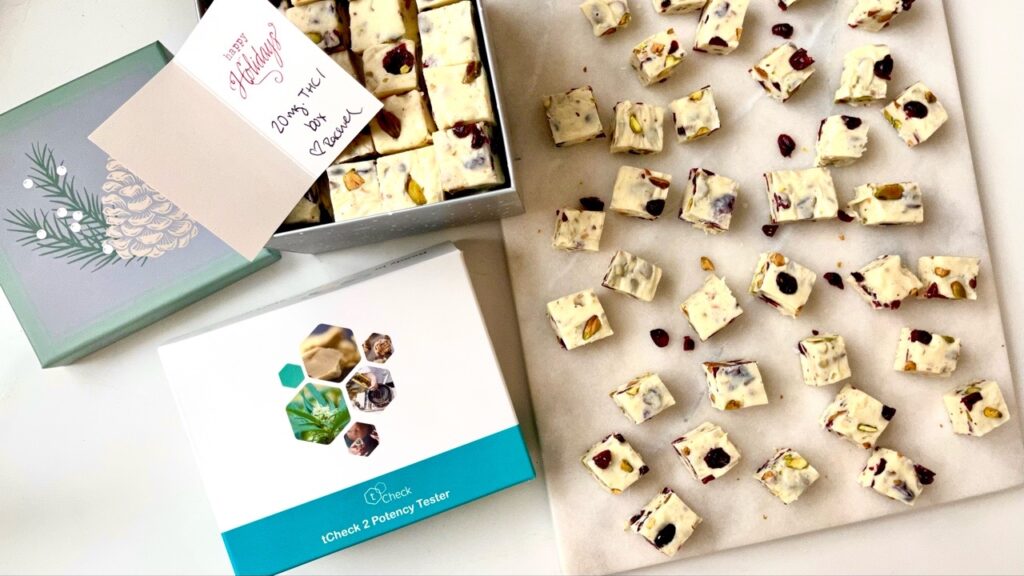 This time of year, there's no better way to help spread holiday cheer than by gifting your adult friends and family with safely dosed and infused treats. As more and more people open their minds to cannabis, gifting your loved ones delicious treats is a great way to help introduce the cannacurious to the plant, but as always, knowledge and safety are paramount when working with infused foods – especially for the uninitiated.
While I've been long doing my own math to calculate dosage on my homemade infused foods, having a device like the tCheck Potency Tester to double-check my dosing is a lifesaver – especially when considering gifting! I love that I can simply and easily connect to its app to double-check the potency of all of my infused oils, making it super easy to make sure I'm giving my loved ones a great cannabis experience. (If you're interested in your own, use code SmokeSipSavor25 for $25 off your purchase!)
With my tested and dosed oils in hand, I set out to make a delicious holiday fudge featuring white chocolate, pistachios and dried cranberries. This simple, fool-proof recipe makes for beautiful little bites that can be packaged up as a pretty little gift for your loved one – just be sure to always include the dosage in milligrams on the package, and if your friend or loved one is new to cannabis, make sure they understand the basics of eating edibles: start low, go slow.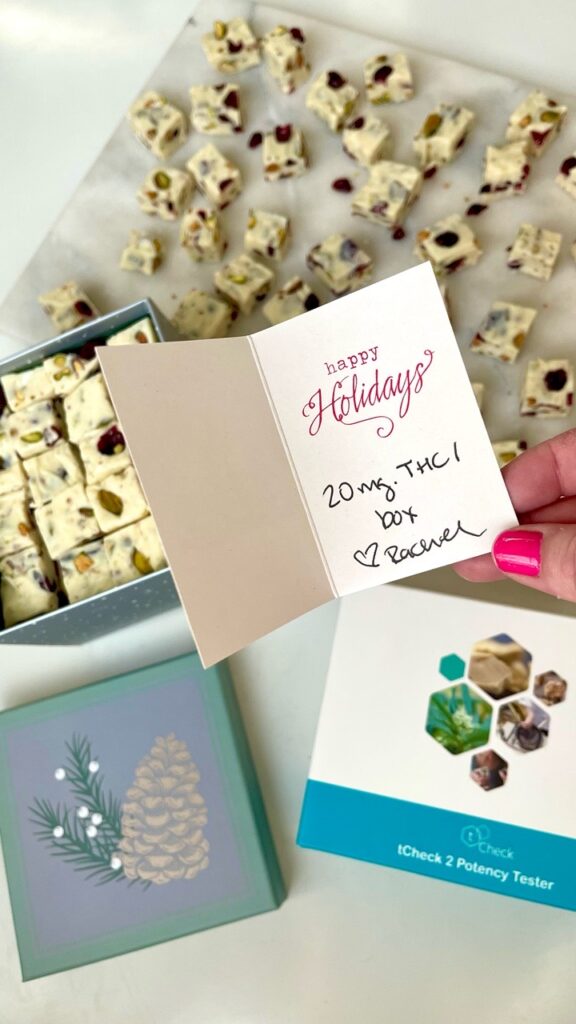 Infused White Chocolate Pistachio Cranberry Fudge
Your preferred dose of infused olive oil, tested in the tCheck Potency Tester
24 oz. high-quality white chocolate, chopped
1 cup dried cranberries
1 cup shelled pistachios, roughly chopped
1 16 oz. can sweetened condensed milk
Pinch sea salt
In a heat-proof large bowl, combine white chocolate, cranberries and pistachios, reserving 1/4 cup each of cranberries and pistachios for topping. Stir in sweetened condensed milk and your potency-tested infused oil. In a medium-sized saucepan, bring 2 cups of water to a low boil. Place the bowl on top of the saucepan, and stir continuously until fully melted. Pour into a parchment paper-lined 8×8 pan. Sprinkle remaining pistachios, cranberries, and a pinch of sea salt on top, and refrigerate for 2 hours. Cut into evenly-sized squares, and gift with dosage listed!