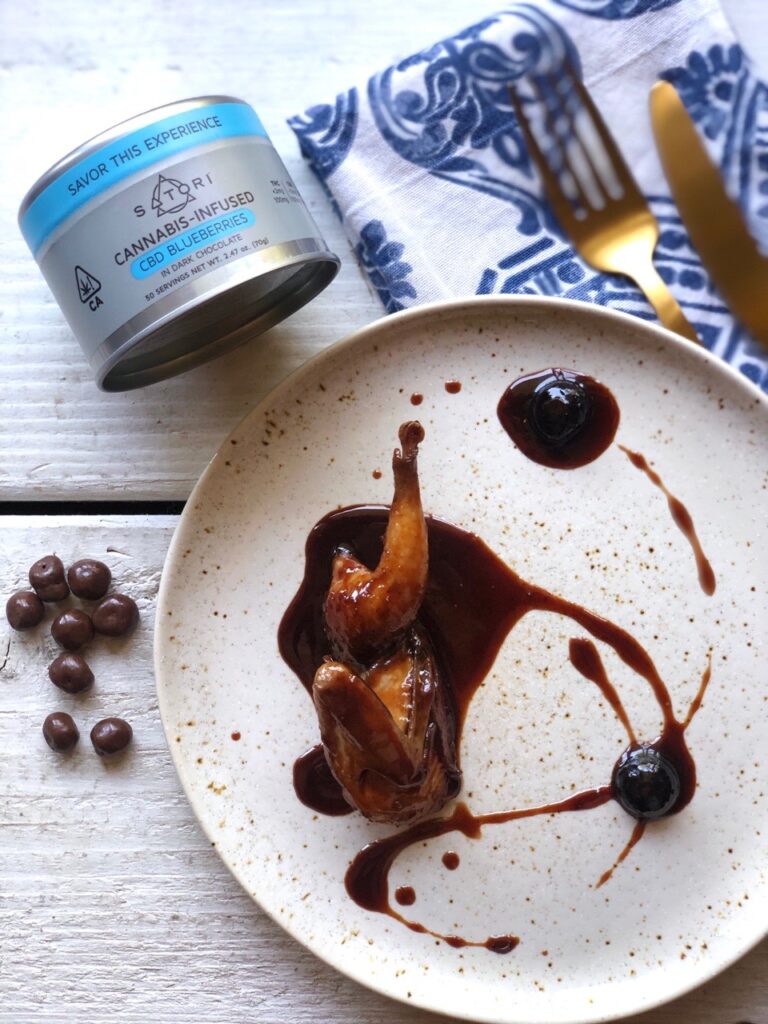 When it comes to edibles, I'm on a never-ending quest for three things: quality, consistency, and deliciousness. For me, that means real flavors and ingredients; standardized, consistent dosing that's easy to personalize; and, well, it better taste great! Every once in a while, I get lucky by finding a brand that checks all of my boxes – and Satori is one of them.
While this brand has been a stalwart in the California cannabis industry for years, I hadn't really gotten to experiment with Satori's products much in the past, so I was stoked to get my hands on the Satori Fast-Acting Strawberries in Milk Chocolate and 1:1 CBD Blueberries in Dark Chocolate for a little experimenting.
With nuanced aromas of dark and milk chocolate wafting out of each tin, the first thing I noticed was the premium quality of the Satori chocolate. Right out of the tin, the CBD Blueberries in Milk Chocolate smell of sweet coffee and dark caramel, while the Strawberries in Milk Chocolate smell like sugar and cream, with the loveliest kiss of strawberry peeking persistently through. Clear, distinct aromas in the chocolate speak to its quality, which is unsurprising, given that Satori is committed to using fair-trade certified, sustainably sourced chocolates from around the globe.
Made with blueberries sourced from a third-generation family farm in Washington, the Satori CBD Blueberries in Dark Chocolate feature 2 mg. each of CBD and THC per bite, resulting in a balanced ratio that's perfect for mellow micro-dosing throughout the day. The chocolate is rich and smooth, with warm nutty notes that are perfectly offset by the deep, jammy flavor of the blueberry in its center.
The Satori Fast-Acting Strawberries in Milk Chocolate might be my new favorite chocolate edible. Made with adorable little wild Italian Alps strawberries, the chocolate tastes sweet and rich with caramel notes, and the strawberries are toothsome, with delightful crunchy seeds and a texture that feels like nature's perfect gummy. Each bite features 3 mg. of THC and 2 mg. CBD, and because they are powered by nanoemulsion technology, you'll feel this product's effect in as little as 15 minutes – as opposed to 45 minutes or longer with classic edibles.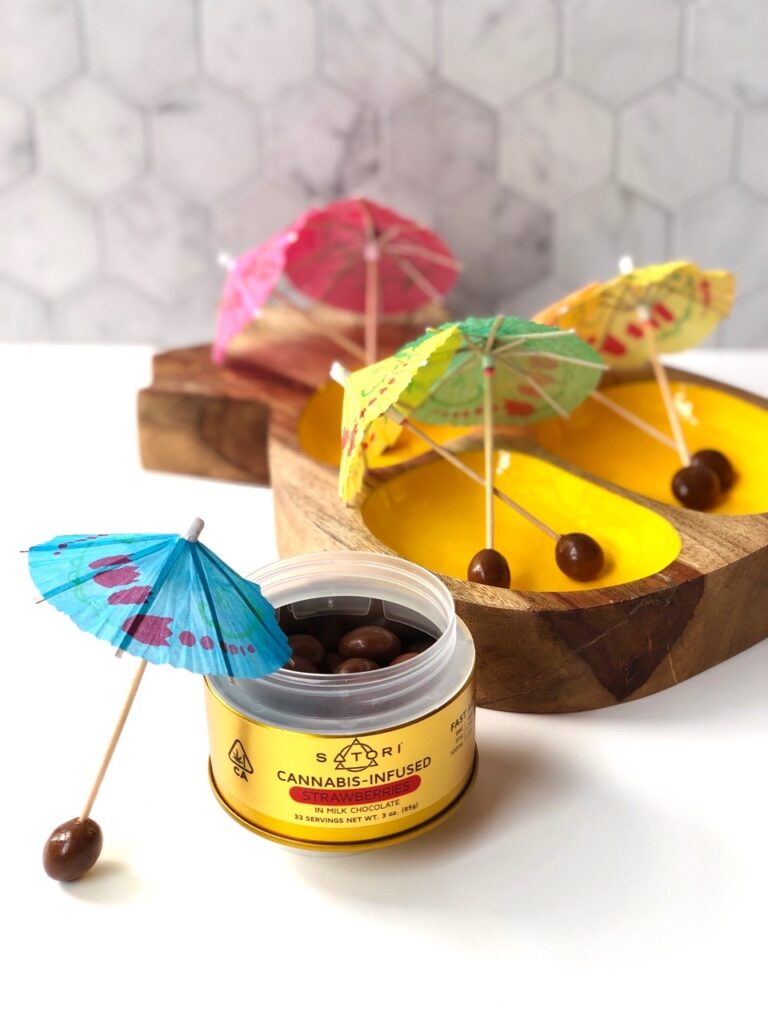 As a high tolerance person, I do tend to find that I experience more of a a "high" effect – and certainly one with a more rapid onset – with edibles made using nanoemulsion technologies, and I think this is exactly the kind of product that consumers will clamor for, as it takes the helps guesswork out of edibles' biggest variables: timing and dose. With low-dose products that are fast-acting, the cannacurious can exercise more control as they learn their preferred dose, regular consumers can layer to find their own perfect dose, and the overall experience becomes more consistent, predictable, and enjoyable. Check, check and check!
With two new products to play with, I reached out to my brother, Holden Jagger, co-founder of Altered Plates Hospitality. Back before Covid put the brakes on our events, one of our favorite things to do was work together to integrate cannabis products into our guests' dining and hospitality experiences, and to be honest, I miss that. He and I had been quarantining separately with our families, and hadn't collaborated on anything fun in a while, so I sent the blueberries his way and tasked him with coming up with a savory dish he'd serve if we were doing a summertime soiree featuring Satori chocolates.
I challenged myself to think about how we'd welcome our guests to a summertime party, and immediately knew the Strawberries would be the perfect party-starter: With their fast-acting abilities, guests would be enjoying themselves right away, and nothing could be cuter (or easier!) than a little berry on a cocktail umbrella.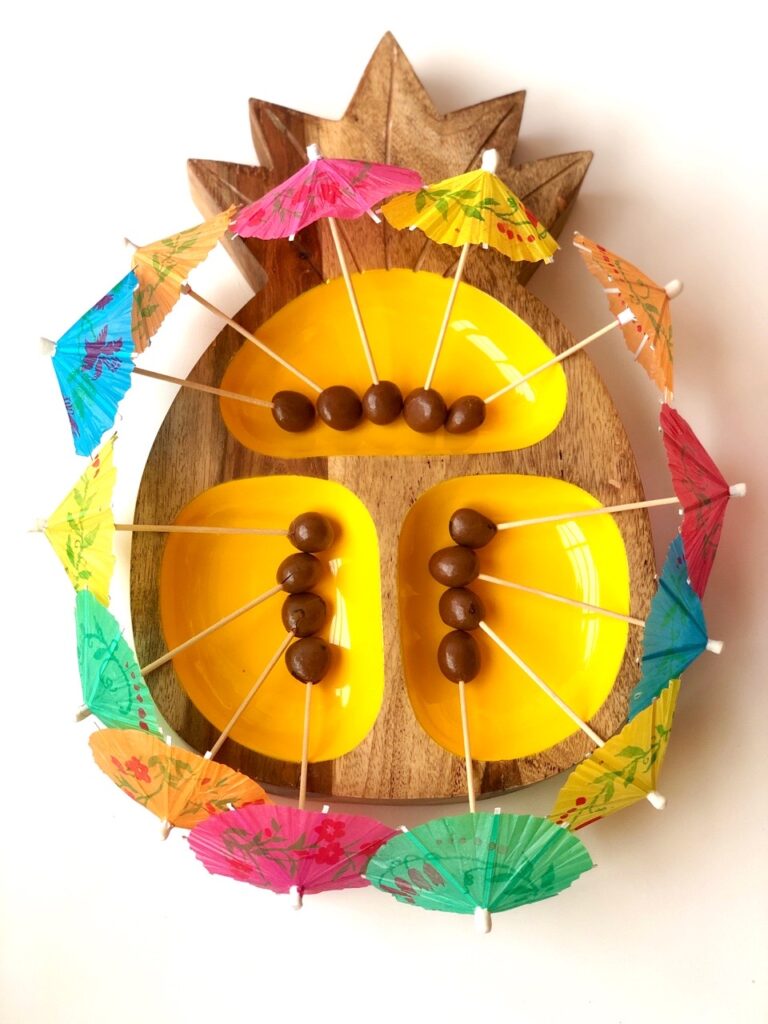 Holden came up with a quail glazed with sherry and blueberries featuring 2 mg. THC and 2 mg. CBD. The recipe for this dish is below; rich, sweet, and slightly tangy with a hint of chocolate, this is the perfect way to elevate your standard wings game. Quail is a flavorful bird that works beautifully with these intense flavors, so swap the old standard buffalo wing for these elevated and infused bites. Scroll down for the full recipe.
While we can't be there to share this dish with you all in person, I do hope you give Holden's recipe a try – or if cooking's not your thing, the umbrellas are foolproof and adorable 🙂
Happy summer!
Quail with Satori Blueberry Sherry sauce
Serves Four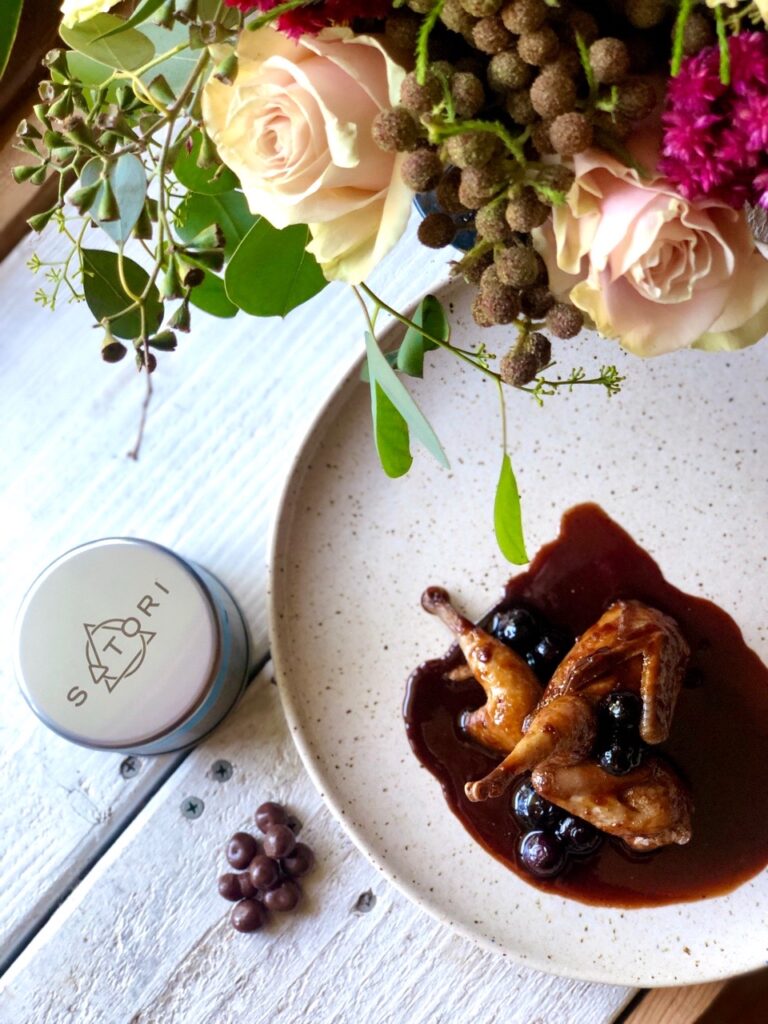 Blueberry Sherry sauce
1 cup dry sherry
2 oz. dried blueberries
1 clove garlic crushed
1 bay leaf
½ shallot minced
½ teaspoon salt
6 oz beef or veal demi-glace (or 12 oz beef bone broth reduced by half)
3 tablespoons room temperature butter
Satori CBD Blueberries in Dark Chocolate
4 whole Quail, patted dry and left uncovered in the refrigerator until the skin is dry
In a medium sized sauce pot, combine dry sherry, dried blueberries, garlic, bay leaf, shallot and salt. Reduce mixture over medium heat until a thick syrup-like consistency forms in the sauce. While that is reducing, heat the beef or veal demi-glace, or reduced beef stock, over medium heat until it reaches a simmer. Once the sherry sauce is thick and very reduced, strain through a fine mesh strainer into the pot with the simmering stock. Discard the stained material and do not force the contents through the mesh strainer.Continue simmering the combined mixture of the sherry and the stock until a sauce consistency forms. Set aside and cover.
Roasted Quail
*-Sourcing quail can be challenging, but it can be found frozen frequently in boutique groceries stores and butcher shops. Just ask the person behind the counter, and they should be able to point you in the right direction. These quails will often have their backbones removed, which will reduce the cook time and make cooking them evenly less challenging. Thaw the quail a day ahead. Lay them out, patting them dry with paper towels before storing them in the fridge, uncovered. A sheet tray with a rack works great for this. The dryer the skin, the crisper it will get.
In a large sauteé pan, heat 1 tablespoon of cooking oil over medium high heat. Lightly season the quail with salt. Place the quail two at a time in the pan breast-side down. Cook for 2- 3 minutes – the birds should release from the pan. Flip and cook for 3-4 minutes until both sides of the quail are evenly browned. Set aside to cool and repeat with the other two birds. Set all the birds aside to rest, slice them each in half, making 8 portions.
In a wide pot, heat the sauce, gently below a simmer. Add Satori CBD Blueberries in Dark Chocolate, and cook softly until the chocolate fully melts. Add the butter, incorporating it with a whisk until shiny. Turn the heat very low and add the quail half gently. Using a spoon, lightly glaze the quail in the sauce, until they are coated and glossy.
Serve warm with heaps of the sauce over the finished quails.