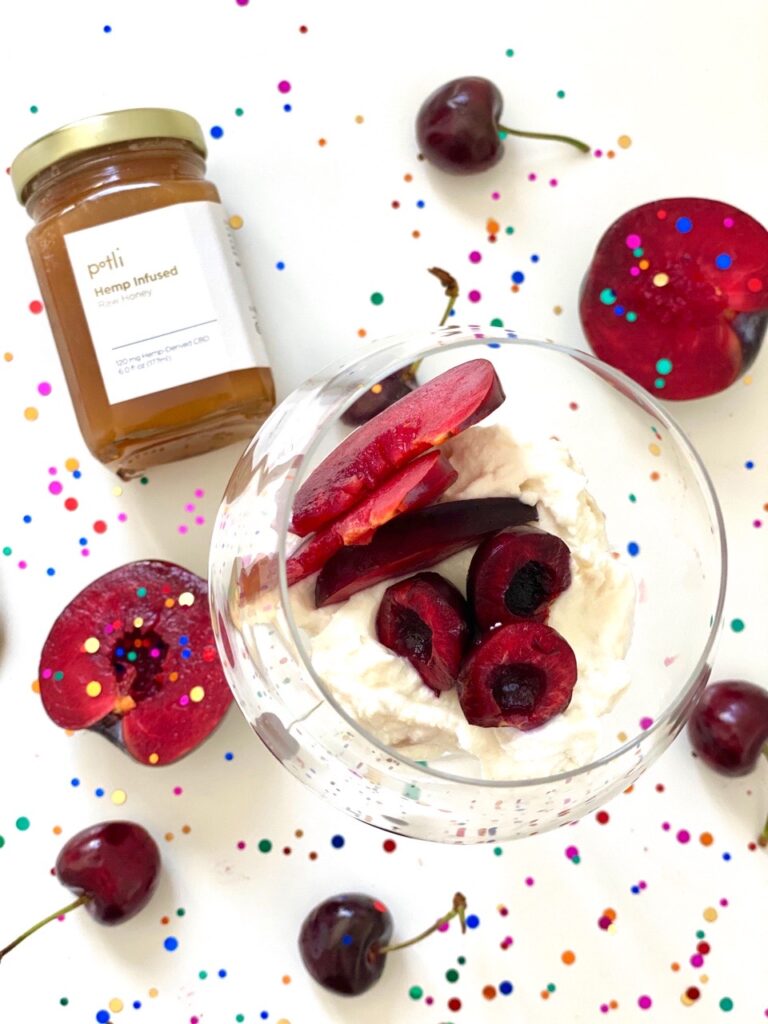 The Potli portfolio is as versatile as they come: With pantry staples like Olive Oil, Apple Cider Vinegar, Honey, Chili Oil and Sriracha, the beauty of this line is their ability to turn almost anything into an infused food. To celebrate Pride this month, I wanted to create a few recipes that were not only were fun and delicious and celebratory of seasonal fruit (um, can it be stone fruit season forever?), but also showcase some of the many ways you can incorporate cannabis into dishes. It's time to think outside the pot brownie, y'all! Not that there's anything wrong with that – which is why you'll also find a recipe for a sprinkle-filled rice crispy treat, cut into shapes of hearts. 🙂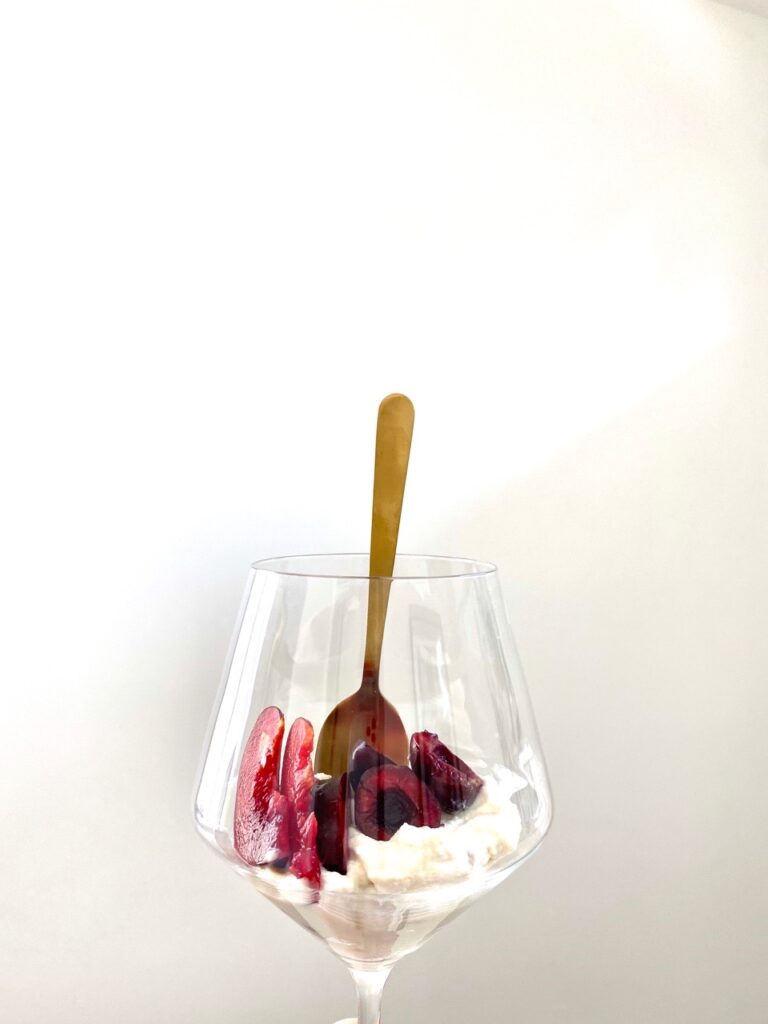 Honey Whipped Ricotta Stoned Fruit Parfait
To be honest, this is kind of my dream dessert. I don't have a huge sweet tooth and prefer cheeses over chocolates, so combining Ricotta cheese and the Potli CBD honey in a simple fruit parfait was a lightly-sweet home run for me. I would literally eat this every day, especially with the perfect bounty of stone fruit in early summer. This can be translated into a year-round dish by swapping out seasonal fruits throughout the year, but we're still in the prime of cherry season here, so my family has been going through pounds of cherries a week. The window to celebrate their magical color and flavor is fleeting, and I will go hard while I still can. I have no regrets. And don't even get me started on these pluots!
1/4 cup part-skim ricotta*
1 teaspoon lemon juice
1 tablespoon Potli CBD Honey
Cherries, halved
Pluot
*I used part-skim ricotta to make this a slightly healthier option, but use whole milk ricotta for maximum smoothness.
Combine cheese, lemon juice, Potli CBD honey in a food processor until smooth. Serve in a glass; top with seasonal fruit.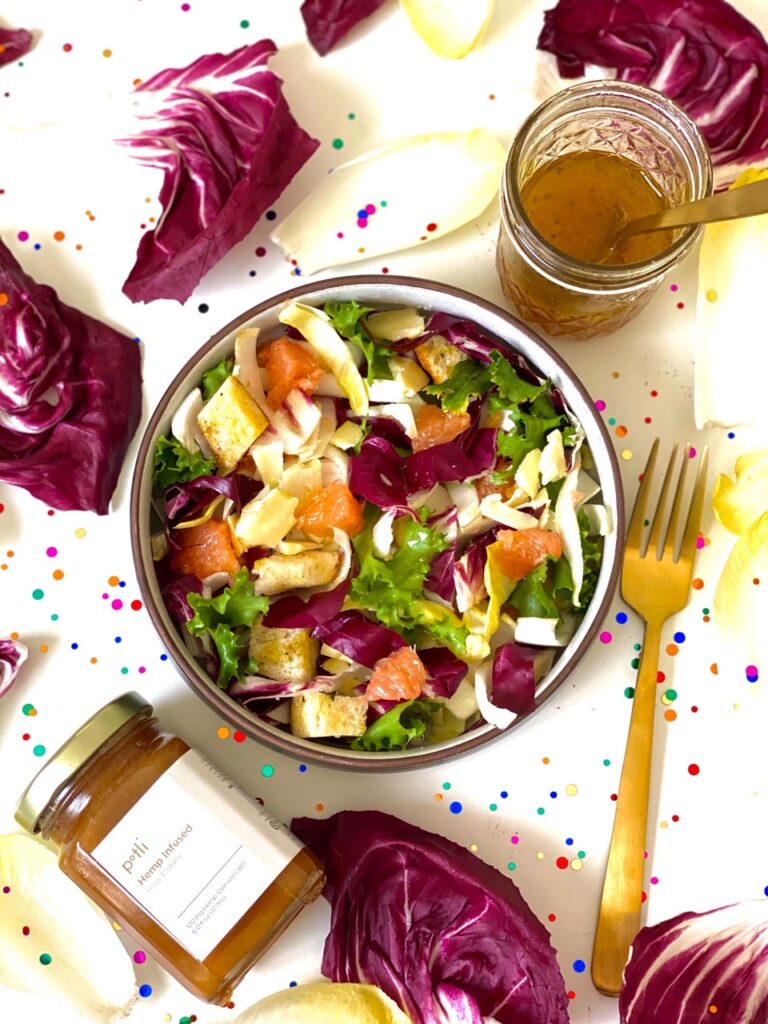 Any Way You Want It Dressing
I wanted to create a recipe that could be used with a variety or combination of Potli ingredients, and while I didn't have all of the products on hand to play with, I've used them in the past and know they'd perform beautifully in this recipe. Whether you have the Potli Honey, Potli Olive Oil, Potli Apple Cider Vinegar – or any combination of the three, this recipe is simple and delicious and could be used as everything from a marinade (just add 1 tablespoon minced garlic!) to salad dressing (see below!) to dipping sauce (add a sprinkle of fresh herbs!). I served it over a salad of endive, chicory, grapefruit, ricotta salata, and some croutons, which offered the perfect balance of sweet and bitter flavors, uplifted by the grapefruit and ACV in the dressing. A really nice CBD summer salad!
Potli Poly Dressing
1/2 cup Potli Apple Cider Vinegar
1/4 cup Potli Olive Oil
1 Tablespoon Potli Honey
Salt and pepper to taste
Combine ingredients in a small Mason jar. Shake vigorously to emulsify. Store in sealed jar in the refrigerator for up to one month. Shake before using.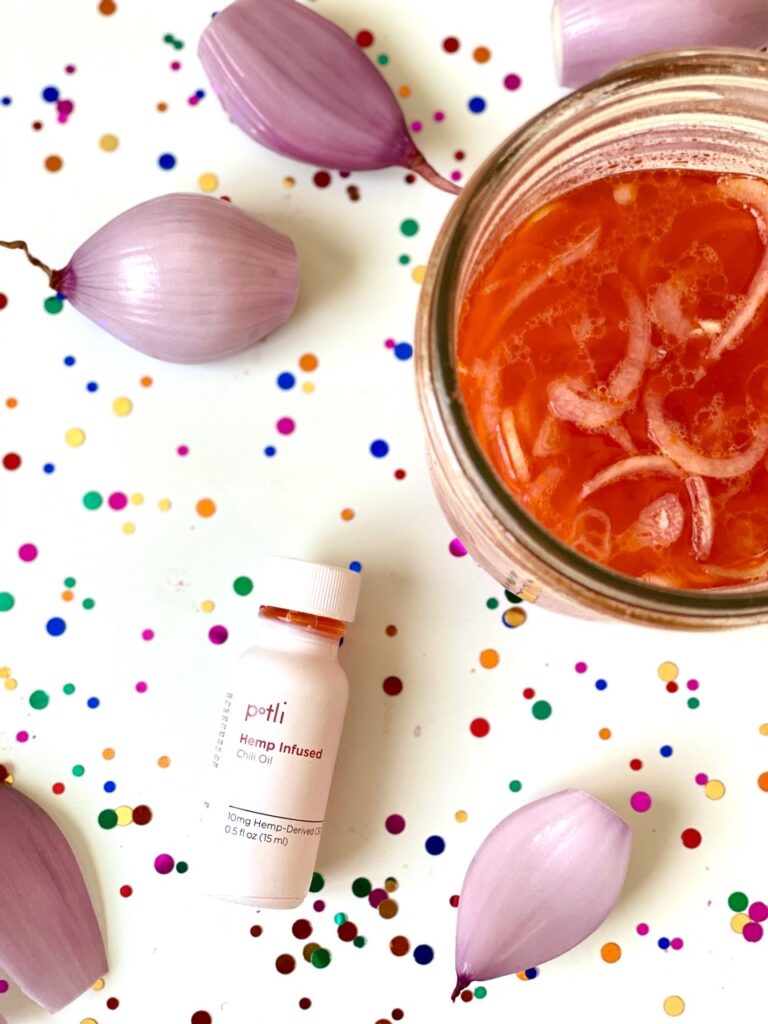 Chili Sesame Pickled Shallots
I wanted to create another versatile Potli pantry staple recipe, so I did a quick pickle on some shallots, added chili and sesame oils, shook it all up in a jar and will not be adding delicious CBD-infused bites to everything from rice bowls to tacos to sandwiches and salads. If you have Potli ACV, use that; if you have the Chili oil use that; use them both; use neither: Any way you mix it, this cannabinoid-rich pantry staple makes elevating your dishes easy.
1/2 pound shallots, peeled, skinned and very thinly sliced
1/2 cup water
1/4 cup Potli Apple Cider Vinegar
1/4 cup distilled white vinegar
1/2 tablespoon salt
1/2 tablespoon sugar
1/2 tablespoon toasted sesame oil
1 tablespoon Potli chili oil
Place sliced shallots in a Mason jar. Combine water, vinegars, salt and sugar in a pot and bring to a low boil. Remove from heat and pour over shallots into jar. Seal and shake the jar, and bring to room temperature. Add chili oil and sesame oil; shake and store in the refrigerator for up to three months.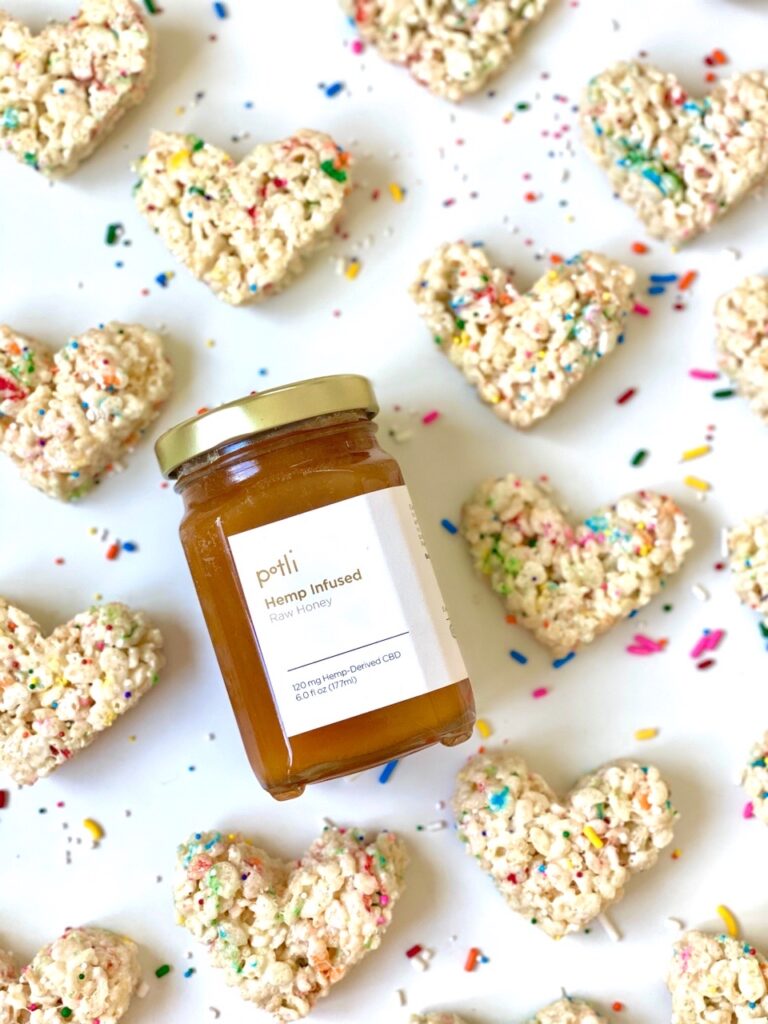 Honey Rainbow Rice Crispy Treats

I was in elementary school when I first had rice crispy treats made with honey: a friend had brought some to school for her birthday, and I liked them so much I asked her mom for the recipe (LOL what a dork). Honey adds a subtle nuance to rice crispy treats that I really like, and, well, I just really wanted to make something simple and easy and fun for this Pride par-tay! In addition to Potli honey, the secret ingredient to this recipe is sprinkles. Tres gourmet, je sais.

2 Tablespoons Potli CBD Honey
3 Tablespoons butter
3/4 package marshmallows
6 cups Rice Crispies cereal
Rainbow Sprinkles
Salt

Over medium-low heat, melt butter in large saucepot, stirring regularly until golden brown. Stir in 1/2 teaspoon of salt and Potli Honey. Combine thoroughly, and add marshmallows, stirring regularly until fully melted. Remove from heat and stir in Rice Crispies and another pinch of salt. Press into a greased cookie sheet or pan, then add sprinkles to top layer. While the mixture is still warm but not hot, grease your hands and gently fold and re-press rice crispies, mixing sprinkles in throughout. Be careful to not knead. Let harden and cut into shape of your choice; I went with heat shaped cookie cutters, because love wins, y'all. <3