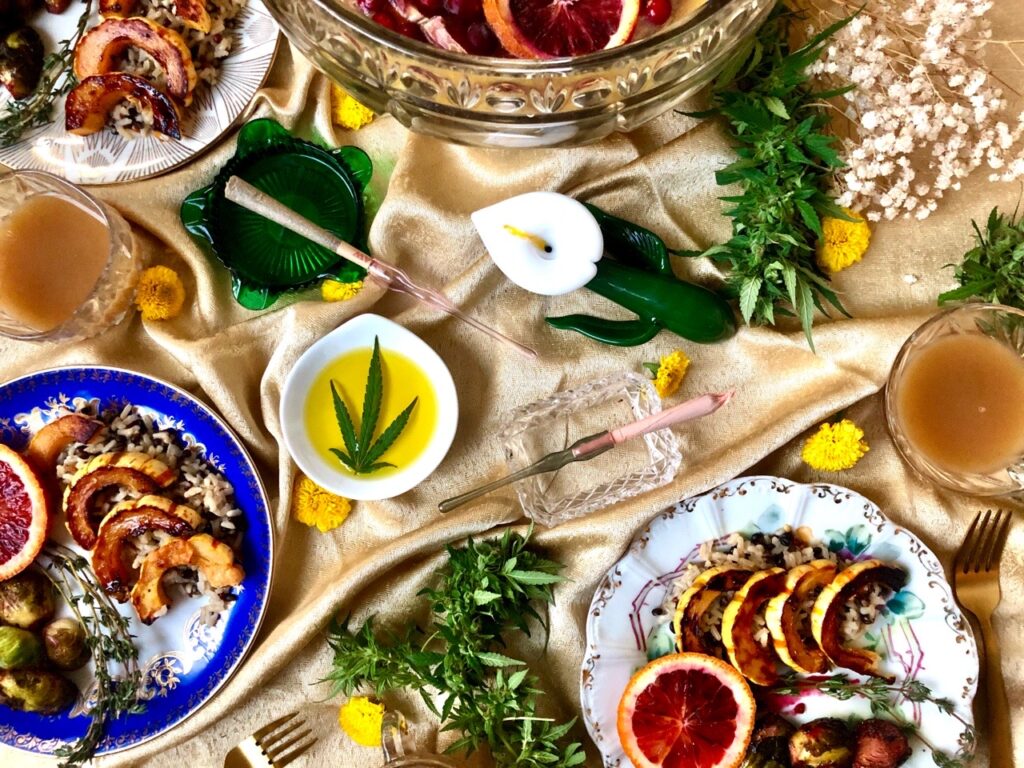 If you follow me on Instagram, you may have seen that for the past few months, I've been working on a fun program called the Elevated Eight, hosted by me and my friend Angela Mou, proprietor of Elevate Jane, the high-end smoke shop of your dreams. The Elevated Eight came to be early in the Spring of 2020, AKA, the period of Covid lockdown when we were all trying desperately to connect with other humans via Tik Tok dances and Instagram Lives. Angela had reached out wanting to do something fun, lighthearted, and celebratory of two of the things we love the most: food and cannabis.
But what we have built with the Elevated Eight is more lasting than just some strange moment in 2020 social media trends, and Angela and I have since grown the program to include 24 chefs from across the country, who have competed in three rounds of competition for their chance at the title. Throughout this process, I've been honored to feature chefs I've long known, admired and respected, and I've also been blown away by all sorts of chefs out there who were new to me – and whose food I can't wait to eat one day, Covid permitting.
I'll be sharing more about the Elevated Eight and some of its featured chefs in the future, but in the meantime, the time is upon us for a Thanksgiving feast! Whether you're sitting down for a family Facetime, or eating takeout alone in your undies, if there's one thing Thanksgiving 2020 could use, it's a bit of fun and relaxation, and nothing fits the bill better than cannabis.
It's simple to explore a wide variety of recipes and techniques to infuse your meal with cannabis, so I created an infused and paired menu to match some of my favorite foodie pieces in the Elevate Jane collection. Scroll down for photos and recipes that will turn your Thanksgiving into a Danksgiving!
First Things First: Cheese
While the turkey (or tofurkey) is still in the oven, whet your appetite with an infused cheese board. I decorated a classic goat cheese log with edible flower petals and cannabis leaves, and brushed some THC oil across grilled halloumi, a salty, firm cheese that's my secret cheese-board weapon. I also drizzled some infused oil and balsamic reduction over some fresh mozzarella balls, but because I cannot even fathom sitting down to a Thanksgiving feast without smoking a few bowls first, I set out this fantastic Swiss cheese wedge pipe and some matching baby cheese joint holders from the EJ shop.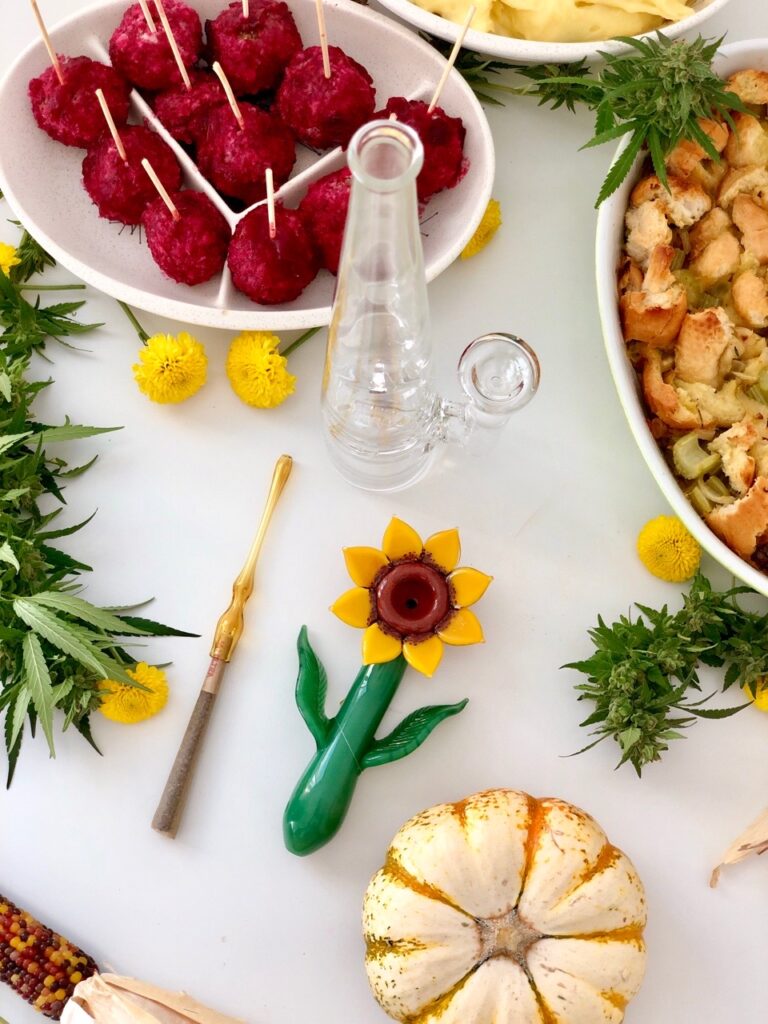 From there, I dipped lentil "meatballs" in infused cranberry sauce and pulled out the Best Bong Ever, the Elevate Jane Mimi! This is my easy, everyday bong, and there's a lot to like about it. It's sleek, unobtrusive, and the perfect size to keep on your desk or nightstand. It's easy to use, easy to clean, and just in general, a really nice bong. And don't even get me started on this sunflower pipe! Have you seen anything cuter?
Infused Cranberry Sauce
12 oz. fresh cranberries
3/4 cup sugar
1/2 cup water
1/2 cup orange juice
Pinch salt
Cinnamon stick
Orange zest
THC Tincture
Combine sugar, orange juice and water in a saucepot. Add cranberries, orange zest, salt and cinnamon stick. Bring to a simmer, stirring frequently for ten minutes, or until most cranberries have popped. Remove from heat and stir in desired dose of tincture.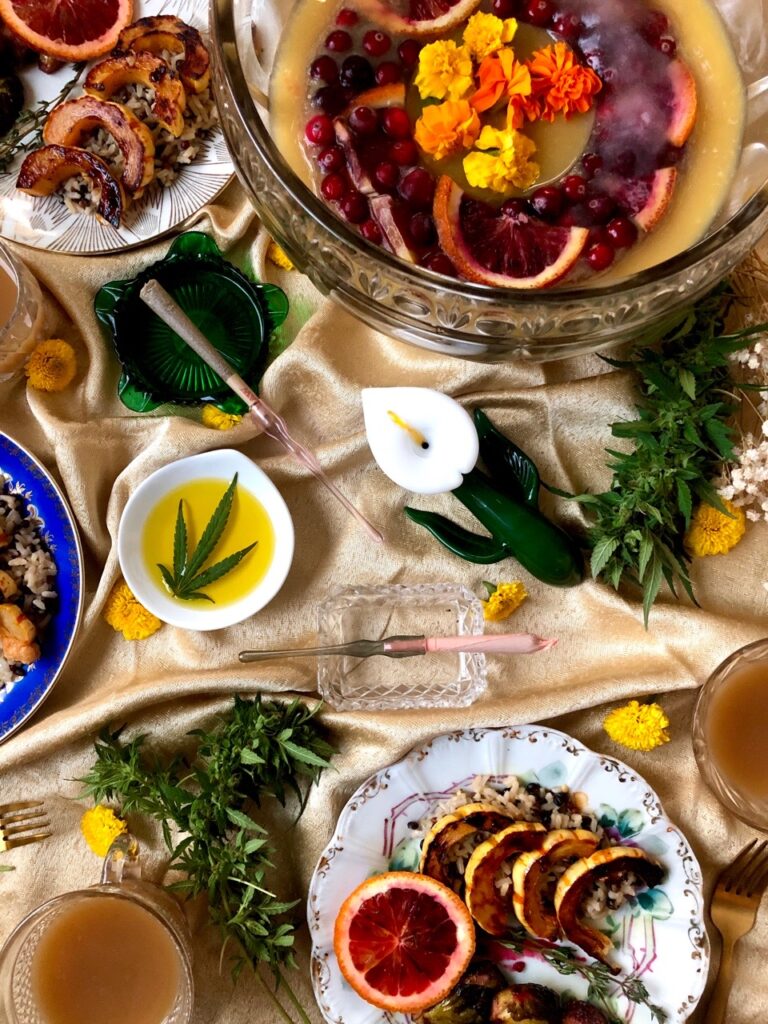 The Elevate Jane Calla Lily pipe is one of the most elegant and beautiful pieces I've ever seen, so I was inspired to pull out some fancy china and set a lush scene fit for this floral queen. I roasted off some Delicata squash and whipped up a festive CBD punch (see below for recipes), and served it with a side of infused oil. Since we're smoking and consuming infused foods, at this point in the meal, I find it's best to leave the infusions on the side, so you may individually dose – or choose not to and stick to smoking!
Apple Cider CBD Punch
4 cups apple cider or unfiltered apple juice
2 cups orange juice (no pulp)
1 cup pumpkin purée
2 dashes pumpkin pie spice
4 cups good-quality ginger beer
CBD Tincture dose of your choice

Combine all ingredients in a punch bowl. Use a whisk to thoroughly combine. Add an ice ring decorated with fresh cranberries and citrus. Serve and enjoy!
Roasted Delicata Squash
1 large Delicata squash, washed
1 large shallot, diced
1 tablespoon maple syrup
1/4 cup tablespoons apple cider vinegar
1/4 cup olive oil
1/2 cup shaved parmesan
3-4 sprigs fresh thyme, destemmed
2-3 fresh sage leaves, chopped
Salt
Pepper

Pre-heat oven to 425-degrees. Line a baking sheet with parchment paper and set aside. Slice Delicata squash in half; remove seeds. Slice into crescents. In a large bowl, combine shallot, maple syrup, apple cider vinegar, olive oil, thyme and sage. Add sliced squash to bowl, stir to coat; reserve excess marinade. Arrange squash on sheet pan, top with salt, pepper and parmesan. Bake for 10-15 minutes; flip squash and top other side with remaining liquid and cheese. Roast an additional 10-15 minutes.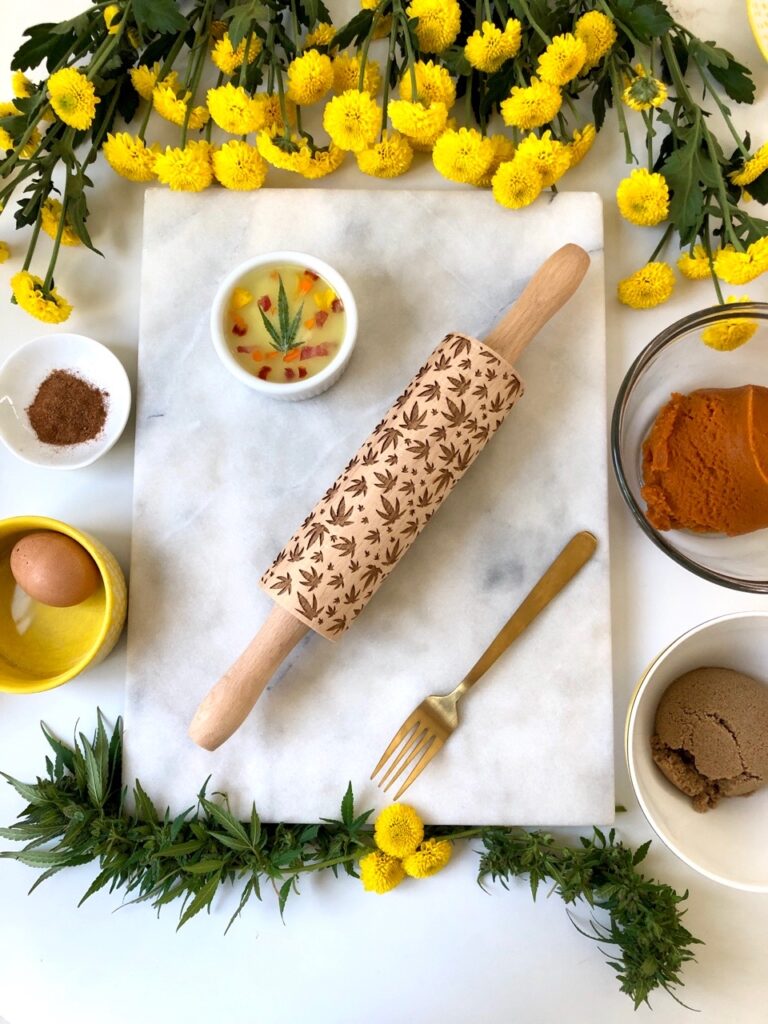 And finally dessert! I don't have a photo of the finished product because I'm still working on this recipe, but Thanksgiving is nigh, and this rolling pin MUST be seen/immediately added to your holiday wishlist! This type of embossed pin works best with firm cookies, so stay tuned for my soon-to-be perfect pumpkin cookies – or maybe the corn ones? We'll see. Either way, more cookies for me.
Looking for more Danksgiving recipes? Check out this piece I wrote for Urban Aroma!