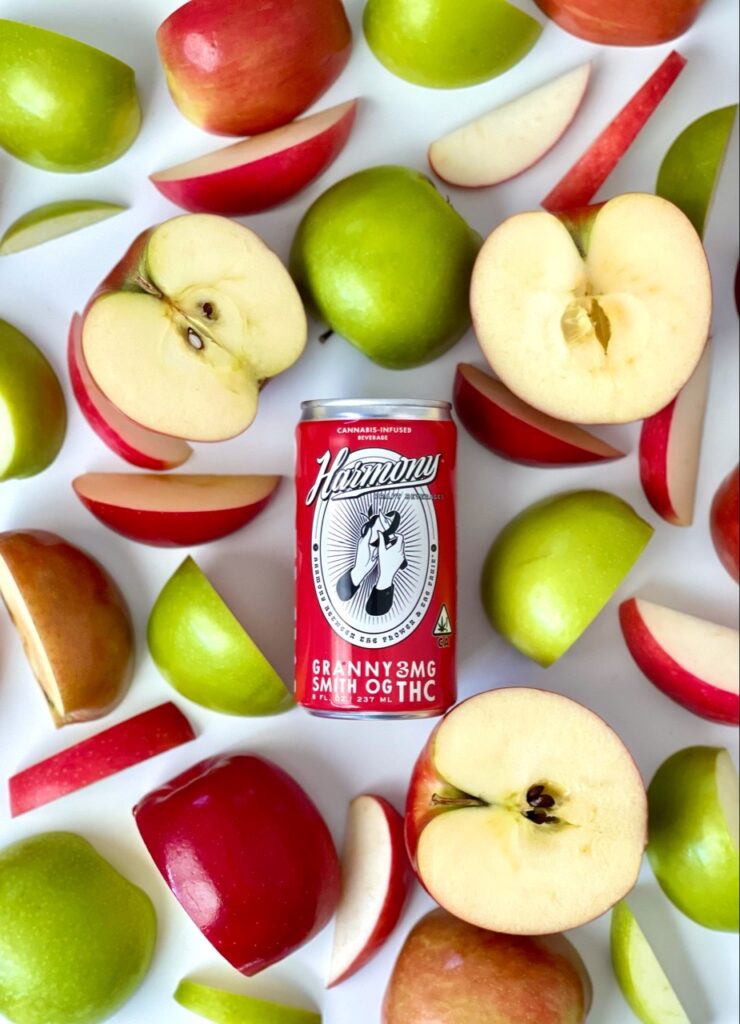 The thing about comparing cannabis beverages and alcoholic beverages is that it can feel a bit like comparing apples to oranges: While they may all be intoxicating liquids, these drinks can have different onsets, effects, and widely varying experiences. But what if cannabis beverages could achieve a more rapid onset, shorter, less intense duration, and more predictable consumer experience? Would comparing these beverages then be more like apples to apples?
Setting out to prove that consumers can have an apples to apples cannabis drinks experience is newly launched Harmony Craft Beverages, whose first product to market, Malus, is cider-inspired and live resin-infused. Made using state-of-the-art technology and at 3 mg. THC/can, Malus is sessionable and offers a predictable, replicable experience that takes away the guesswork that's kept many consumers from exploring the infused drinks marketplace in the past.
Of course, I'm always all about flavor, and this is where Malus really excites me –  because it tastes great! If you like ciders or craft beers, you will like this drink. Not only does it drink like your favorite cider, but it tastes like your favorite cider, with true-to-fruit apple notes jumping out on the nose and developing on the palate. Personally, I also prefer to actually taste the cannabis in my infused drinks, and Malus does feature a greenness from its live resin infusion. But even if you do prefer more subtle cannabis notes, I've found that the flavor in this infusion veered more toward hoppy than anything else, circling back to the craft beer/cider flavors consumers are already accustomed to.
The live resin infusion also brings a very different experience to Malus than other canna-beverages made from distillate or other lower quality extracts. Because live resin is made from fresh-frozen plant material, it preserves the complete cannabinoid and terpene profile of the plant, resulting in a full-spectrum extraction that's both flavorful and effective. The way live resin makes you feel is subjective and based on your own ECS and tolerance, but it is my experience that edibles and drinkable infused with live resin offer a different high: less "stoney" and more "buzzy," again, making live resin-infused beverages more comparable to their alcoholic counterparts… without all the sloppiness and hangovers that can follow!
Stay tuned for more on this exciting new brand, but in the meantime, you can find my tasting notes below:
Tasting notes: Bright upfront with sweet apple blossom aromatics give way to ripe honeyed apple with a kiss of lemon and white flowers on the finish. Rich mouthfeel; true-to-fruit flavor profile is punctuated by a subtle green, hoppy note that balances out the sweetness beautifully.