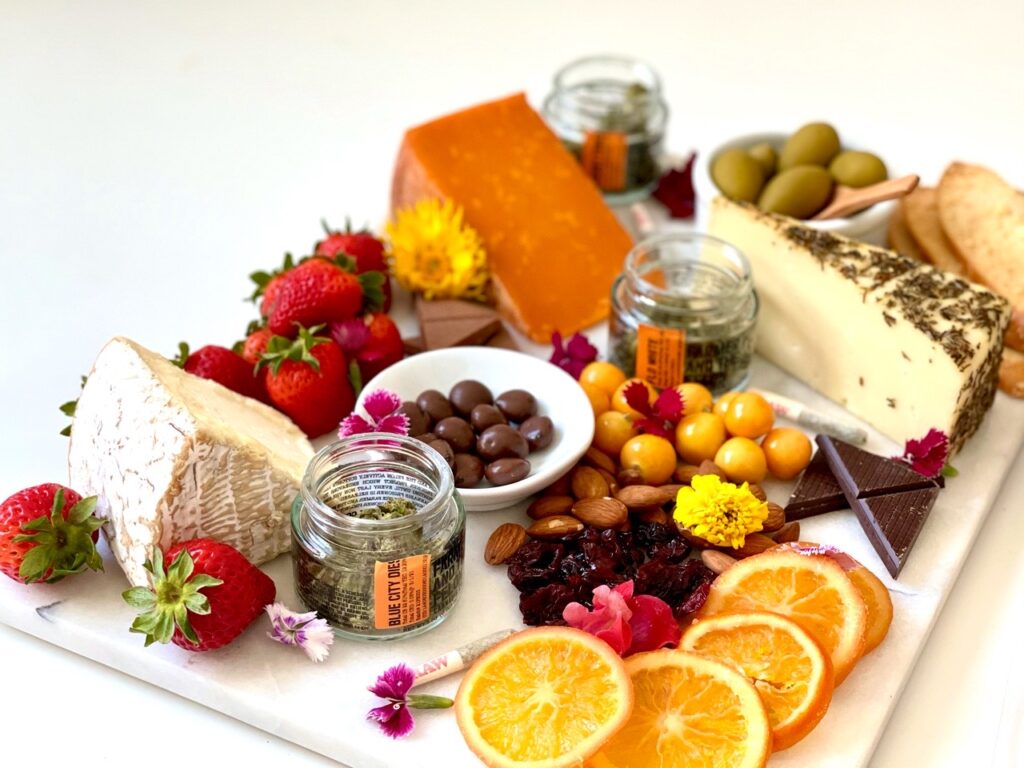 The beauty of a cheese board is that there are endless options for flavor combinations. Whether you're playing with sweet meets salty, brine meets bitter, or crunch meets cream, no matter what you put on your board, you can find balance in contrasting and complimentary flavors. With the world of flavor as my canvas, I was inspired to create some pairings that matched three of my favorite things: cheese, chocolate, and cannabis, building a beautiful cheese board that highlighted these unique pairings.
First, I set out to match the Satori Dark Chocolate Bars, which feature a nice, rich nuttiness and slightly bitter cocoa notes, laced through with a fragrant floral note. It's got a dry intensity that could stand up to the herbal vegetal quality in the Farmer and the Felon Flo White cultivar, which also features an earthy, nutty finish. I matched these flavors with a rosemary-crusted Asiago, which picks up the herbal notes in the flower, and has a bold, sharp flavor that bounces off of the dark chocolate's intensity. To experience this pairing at its fullest, try a bite of the chocolate, then do a dry pull to match the flavor of the flower; take another dry pull, then try the cheese—the rosemary-crusted part!—then finish with another nibble of chocolate.
Satori Milk Chocolate Bars are creamy and sweet with a pretty floral-caramel finish, and paired beautiful with the Farmer and the Felon Cherry Punch. This striking variety features an earthy muskiness, hint of purple flowers, and a kiss of juniper and acidity; combined with the chocolate's sweetness, the pairing feels indulgent and rich. I matched this pairing with a classic Red Leicester, which is nutty and crumbly. My recommendation is to take a dry pull of the Cherry Punch, crumble a bit of cheese on top of a Satori Milk Chocolate triangle, and enjoy as one complete bite. Delicious!
The Satori Fast Acting Milk Chocolate Strawberries are some of my favorite edibles, with a great ripe berry jaminess from the real strawberry coated in sweet milk chocolate. These perfect little bites feel indulgent and rich, so I leaned into that by pairing them with a St-Andre triple cream brie, which is ripe, creamy, and enticing. To brighten up the richness, but play into the sweet indulgence of this pairing, I matched the chocolates and cheese with the Farmer and the Felon Blue City Diesel, which features an amazingly bright tropical nose, bursting with fragrant papaya and orange blossoms. This match offers a delightful play of sweet flavors and rich creaminess, and is best enjoyed when your palate is primed to enjoy flavors to the max by the sensory-enhancing effects of cannabis. Start with a fast-acting strawberry, wait a few moments, then taste the cheese and smell the bright aromatics of the flower.
Allow cannabis to enhance your sensory enjoyment of these flavors, and get creative from there! Round out your cheese board with a variety of different colors, textures and flavors. I naturally leaned toward strawberries to match the St. Andre, and almonds play off the nutty notes in both the Red Leicester and Flo White. I included some golden gooseberries, which are tart and juicy, to play off the tropical notes in the Blue City Diesel, and some candied orange wheels to offer another pairing option with the Satori Dark Chocolate bars. Once your board is complete, there are no rules other than to enjoy!