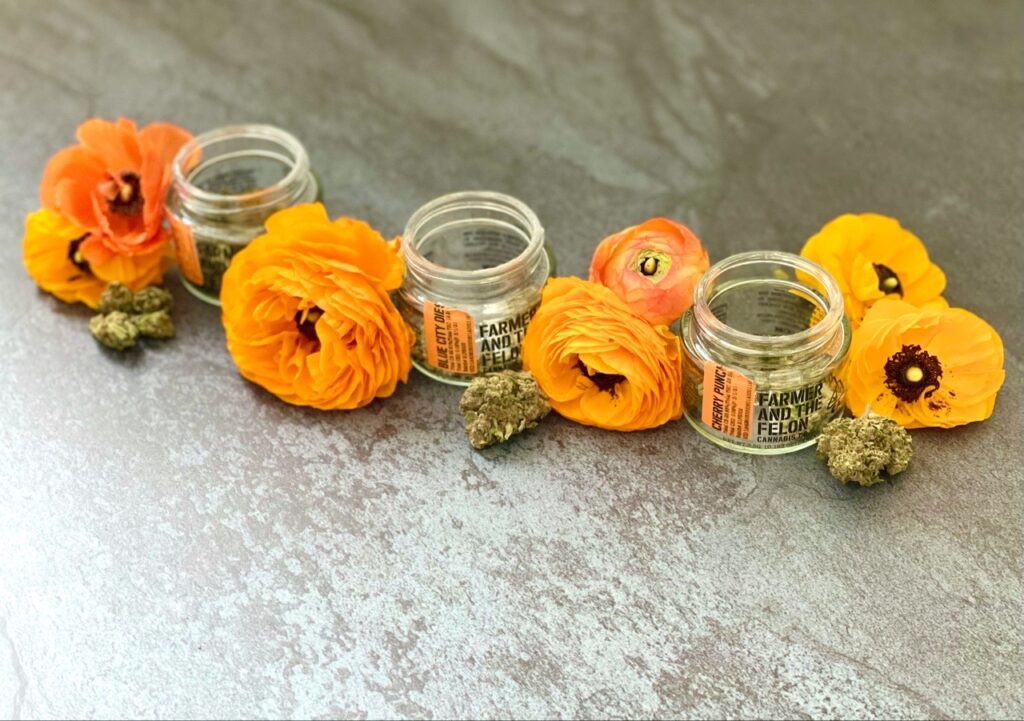 It's been exciting to watch a social justice-focused flower brand like Farmer and the Felon come to life; the brand, which is partnered with the Last Prisoner Project, seeks to bring restorative justice to the cannabis industry through sales of California sungrown flower. A new partnership between Farmer and the Felon and legendary patient advocate Valerie Corral is bringing a new piece to the Farmer and the Felon story, one rooted in advocacy and in high-quality, sungrown planet medicine.
After being badly injured in a car crash as a young woman, Valerie learned about using cannabis to heal herself, and found herself stepping into the advocacy role when she and her husband were arrested for their small cannabis garden. Their case was dismissed when they raised the defense of medical necessity, and soon, Valerie found herself acting as a resource for the critically ill people who would contact her and ask about finding safe, reliable and affordable cannabis to help with their ailments.
This informal underground network eventually became WAMM, the Wo/men's Alliance for Medical Marijuana, and Valerie and WAMM began cultivating high-quality sungrown cannabis for use by WAMM's seriously ill and end-of-life patients. A few years later, Valerie co-authored the Compassionate Care Act, or Proposition 2015, which paved the way for legal medical cannabis in California.
Valerie and WAMM's legendary advocacy for the plant continued over the next few years as they battled a DEA raid and faced jailtime, but their perseverance paid off on when they eventually won an injunction blocking further federal enforcement actions. Then, as WAMM replanted their garden, California legalized cannabis in 2018, and as of last year, the Dennis Peron and Brownie Mary Act officially took effect, giving licensed cannabis suppliers the ability to provide free product to those in need.
To celebrate this victory in a long and hard-fought battle for compassionate care with cannabis, Valerie recently launched WAMM Phytotherapries, a licensed cannabis company dedicated to using regenerative farming practices to cultivate high-quality cannabis that's affordable and accessible to patients in need.
I was so excited to hear about this collaboration with a cannabis industry legend, so I had to get my hands on some of this limited-edition flower while I still could! The WAMM collaboration features Envirocann-certified sungrown flower sold in fully recyclable jars – even the lids, which are made from 100% reclaimed ocean plastic. The Farmer and the Felon x WAMM Phytotherapies line of flower is available now at Sweetflower Dispensaries, and I picked three varieties to taste through – find my tasting notes below!
Blue City Diesel: This cultivar smells like sheer joy. Bright and wildly aromatic with notes of tropical papaya and a sweet orange blossom finish on the nose; sweet creamsicle with a hint of lime zest on the palate.
Cherry Punch: Earthy and musky notes jump out with notes of violets and ripe currants. Peppery-juniper finish with a touch of brightness.
Flo White: Cherry pit nuttiness gives way to a sharp herbaceousness, laced through with a kiss of floral sweeteness and tangy acidity. Zippy and tart in taste and effect.