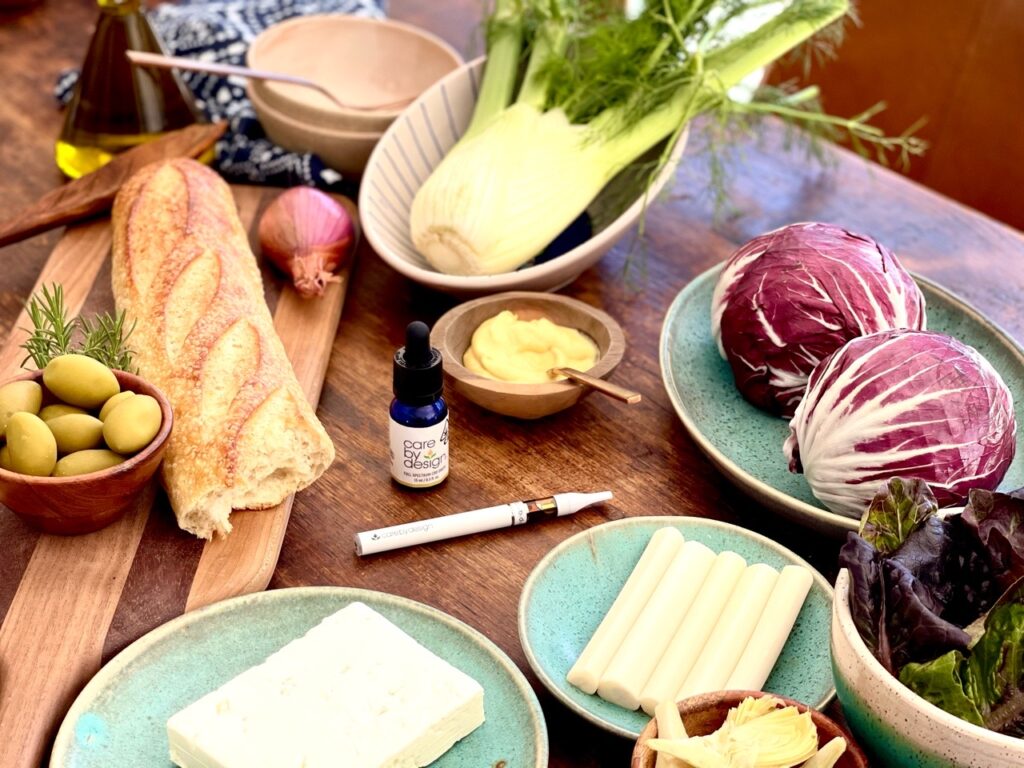 If you're not a natural cook, following techniques, recipes, and various measurements in the kitchen can feel a bit overwhelming. But even if your cooking skills start with pouring water and end with straining pasta, fear not: fresh, bright and seasonal salads made with whatever is handy in your fridge can feel fancy and look high-end if you can just relax and have fun in the kitchen.
And there's no better way to relax and ease into the kitchen than with a little help from cannabis, which primes your palate for delicious flavors and helps you let your creative instincts take over. I turned to Care By Design's 4:1 CBD:THC vape pen to help me start thinking about how I could compose the ingredients I found in my fridge into a chic Spring salad. Working with a balanced blend like this is great for daytime consumption, and a perfect way to get just a little high – but not stoned!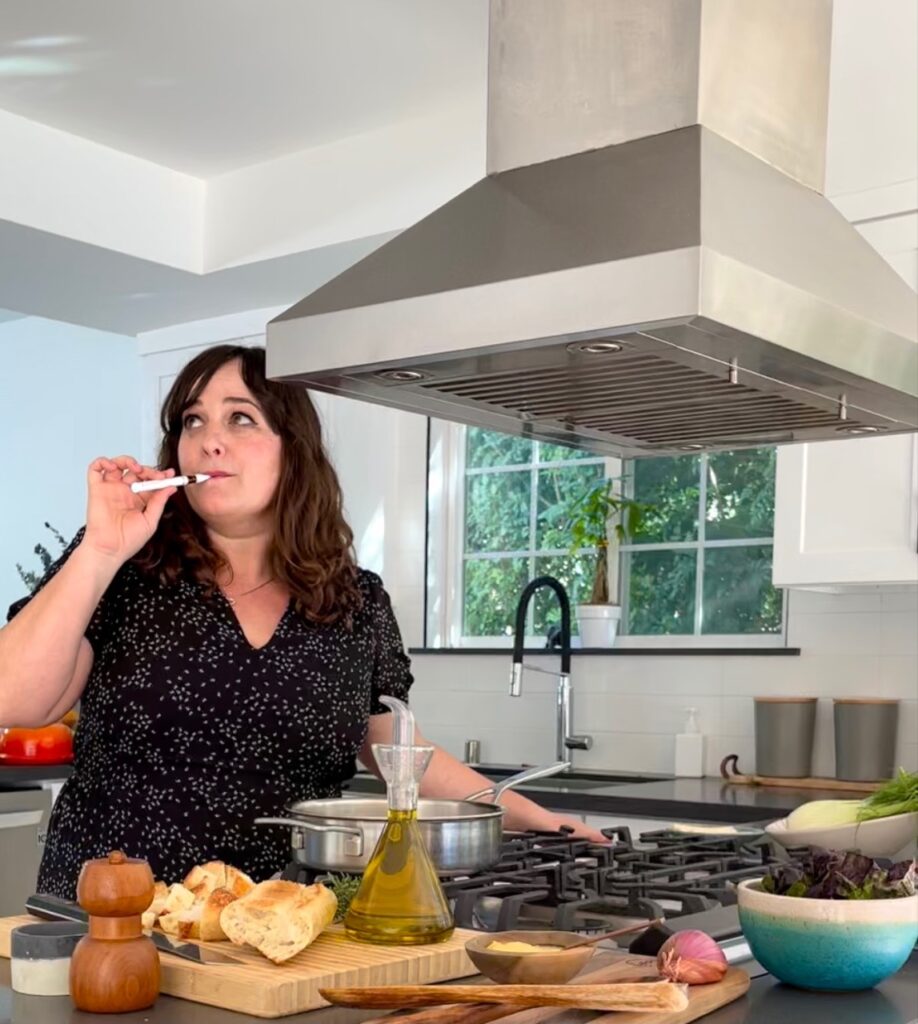 After a few puffs for inspiration, I went digging through the fridge and pulled together some radicchio, fennel, artichoke hearts, olives, rosemary croutons, feta, and a jar of hearts of palm I found in the back of the pantry. When picking ingredients for a salad, consider a variety of different flavor and texture combinations: From the briny olives and artichoke hearts, to the bitter radicchio and subtle sweetness of the hearts of palm, this salad offers a bunch of different flavors that bounce and play off each other.
Another good thing about making a salad is you probably have all of the ingredients you need for a quick and easy dressing just hanging out in your refrigerator. I rarely follow recipes for salad dressings either, and tend to prefer mine to be tart and tangy rather than rich with too much oil. With a little more creative inspiration from the Care By Design vape pen, I pulled together some olive oil, red wine vinegar, shallot, Dijon mustard, lemon, salt and pepper. Start with your olive oil and slowly mix in the rest of the ingredients, tasting as you go and adjusting as needed. Let your palate guide you!
And if you're feeling a little extra inspired, try stirring some of the Care By Design 4:1 Tincture into the dressing too! This is another balanced blend from the brand, with each dropperful offering 16 mg. CBD and a healthy 4 mg. THC. Perfect for a little afternoon delight with an easy spring salad!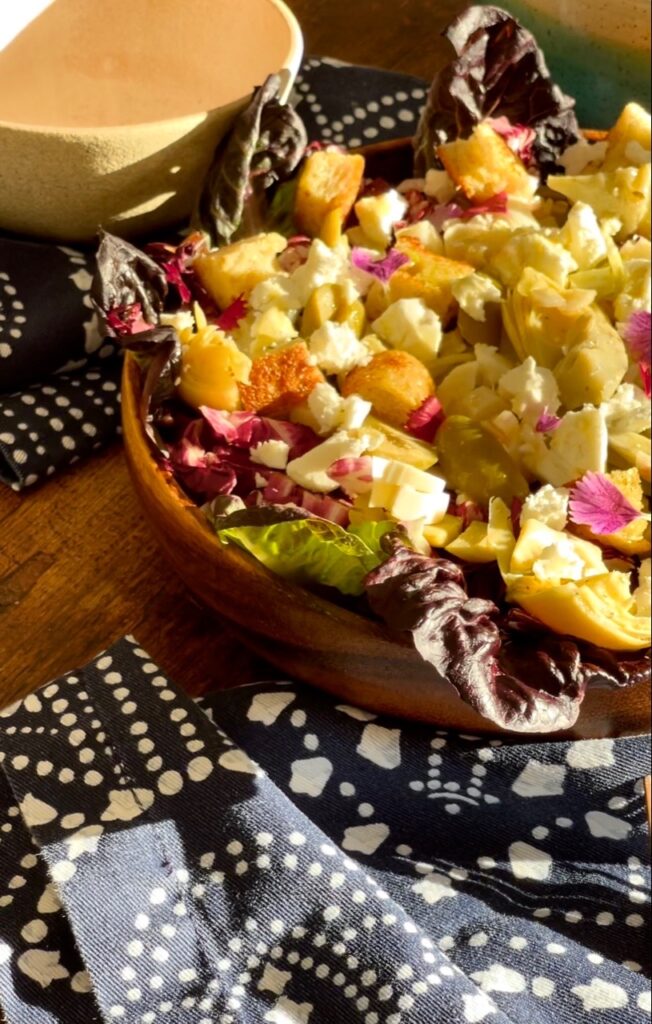 Simple Spring Salad
Here's what I found in my fridge… unlock your creativity, open your fridge, and see what salads you can come up with!
Bibb lettuce
1 head radicchio
1/4 fennel bulb, sliced
½ block of fresh feta
½ cup marinated artichoke hearts
¼ cup olives, sliced (Castelvetrano or similar)
¼ cup hearts of palm, sliced
½ stale sourdough baguette
1 sprig rosemary
Cube the sourdough loaf, and toast the croutons in a hot pan with olive oil, salt, pepper and rosemary for 5-10 minutes. Croutons should be slightly crispy and golden – remove from heat while still soft, as they'll harden as they cool. Set aside.
Build the base for your salad with bibb lettuce. Peel off radicchio leaves and incorporate into salad bed. Top with sliced fennel, artichoke hearts and sliced olives and hearts of palm. Top with croutons and crumbled feta. Top with fresh-cracked pepper and season with a sprinkle of salt.
Simple CBD Salad Dressing
Preferred dose of Care by Design 4:1 tincture
½ shallot, fine-diced
¼ cup olive oil
¼ red wine vinegar
1 ½ tsp dijon mustard
1 tsp. honey
½ tsp salt
freshly ground pepper to taste
Combine ingredients and whisk together with a fork.