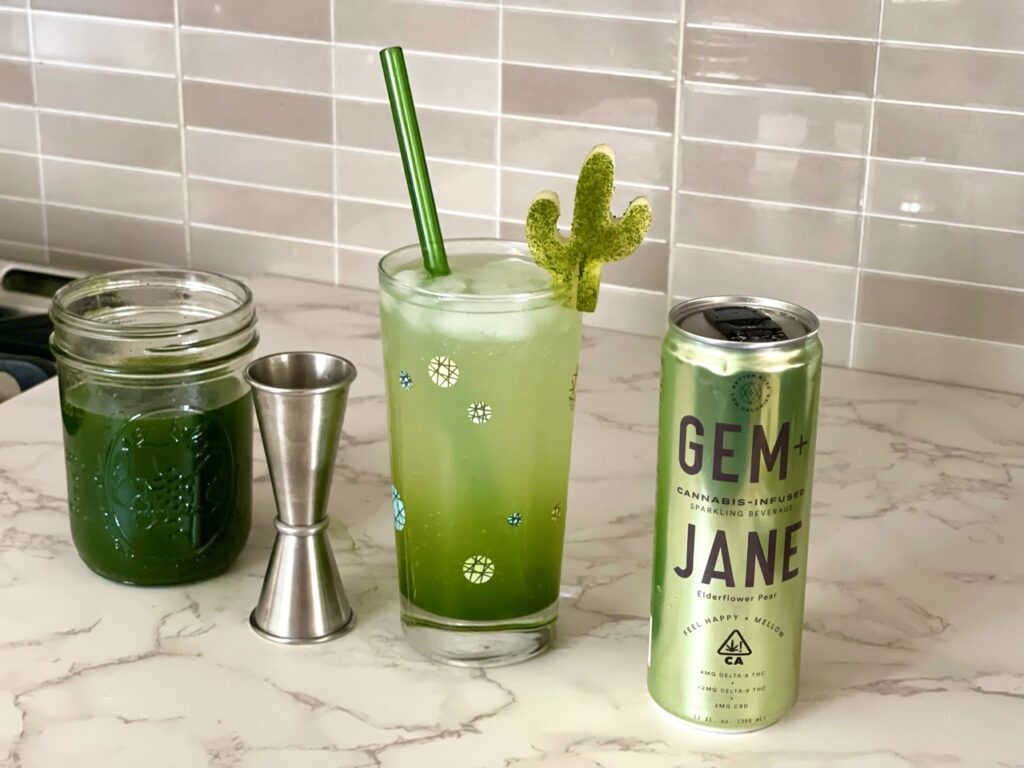 The Gem and Jane Elderflower Pear has this beautiful floral-fruity sweetness with an undercurrent of vegetal earthiness, so I was immediately drawn to matcha when I tasted it. Matcha tea has a robust umami-driven flavor I love so much, and I knew it would provide a little oppositional backbone to the pretty sweetness the Gem + Jane offers.
Now that we're in the official dog days of summer, I knew I wanted to create something bright and refreshing to play with the sweet and savory flavors, so a simple Matcha Soda was a no-brainer.
There are many ways to work with matcha, but I decided to make a matcha simple syrup that would add both intense flavor and stunning color to my drink, which just so happens to match the green hue of the Gem + Jane can beautifully!
I also love the subtle nuance of pear, and wanted to add a crisp pear slice garnish. You might think a green D'Anjou pear might be a more on-theme choice, but I find those pears are too soft to use as an effective garnish. Find a hard brown Bartlett pear, and cut into slices. From there, you can use cookie cutters to make into fun shapes to use as garnish! I dusted the pear cactus and pineapple with some extra matcha powder before slicing to use as garnish.
While this drink couldn't be simpler to make, that's it's beauty; when you've got great ingredients with structure and balanced flavors, it doesn't take much! Follow this simple recipe to have your very own matcha soda bar on-hand at all times!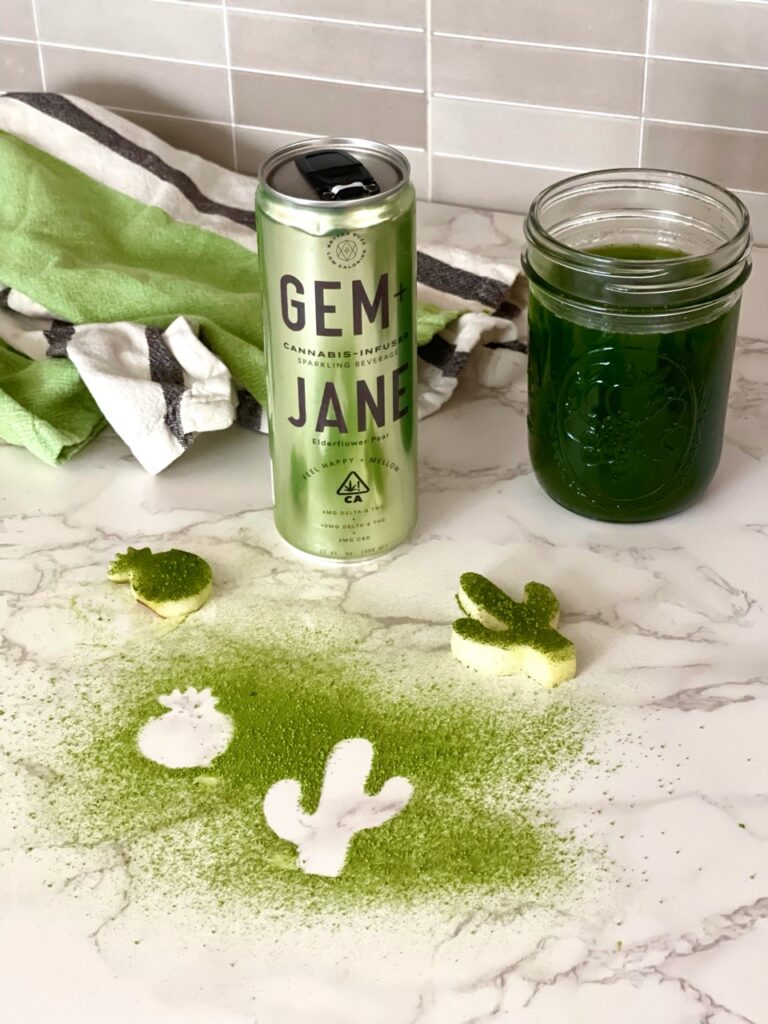 Matcha Soda
(Serves 1)
1 can Gem + Jane Elderflower Pear
2 oz. matcha simple syrup
Matcha-dusted pear garnish
Add ice to a Collins glass; pour 2 oz. simple syrup over ice. Top with one can of Gem + Jane Elderflower Pear and garnish with matcha-dusted pear.
For the simple syrup: Bring one cup of water to a boil; stir in one cup of sugar until dissolved. Remove from heat. Using a fine-mesh strainer, add 2 tablespoons of matcha powder to the simple syrup. Let cool, then strain again. Store in the refrigerator for up to 4 weeks.
For the garnish: Using a fine-mesh strainer or a sifter, dust a hard pear slice with matcha powder. Use small cookie cutters for fun shapes!