As I've previously written, I am a fan of Tinley Elixirs for their mixability, and as a former beverage industry professional, one of my favorite pasttimes is introducing my friends from the world of mixology to the modern-day marvels of cannabis beverages.
One of my good friends, longtime L.A. barlady, Rosie Ruiz, is a craft mixology consultant and caterer, who works with some of the biggest brands in the spirits world with her business, Stayin Gold Cocktails. Rosie has been kind of enough to join Altered Plates behind the stick on more than one occasion, and I like to joke that I've turned her into a stoner. Only she knows whether or not that is true, but we did spend one blazey afternoon making THC cocktails with the Tinley Elixir line, and here's what we came up with.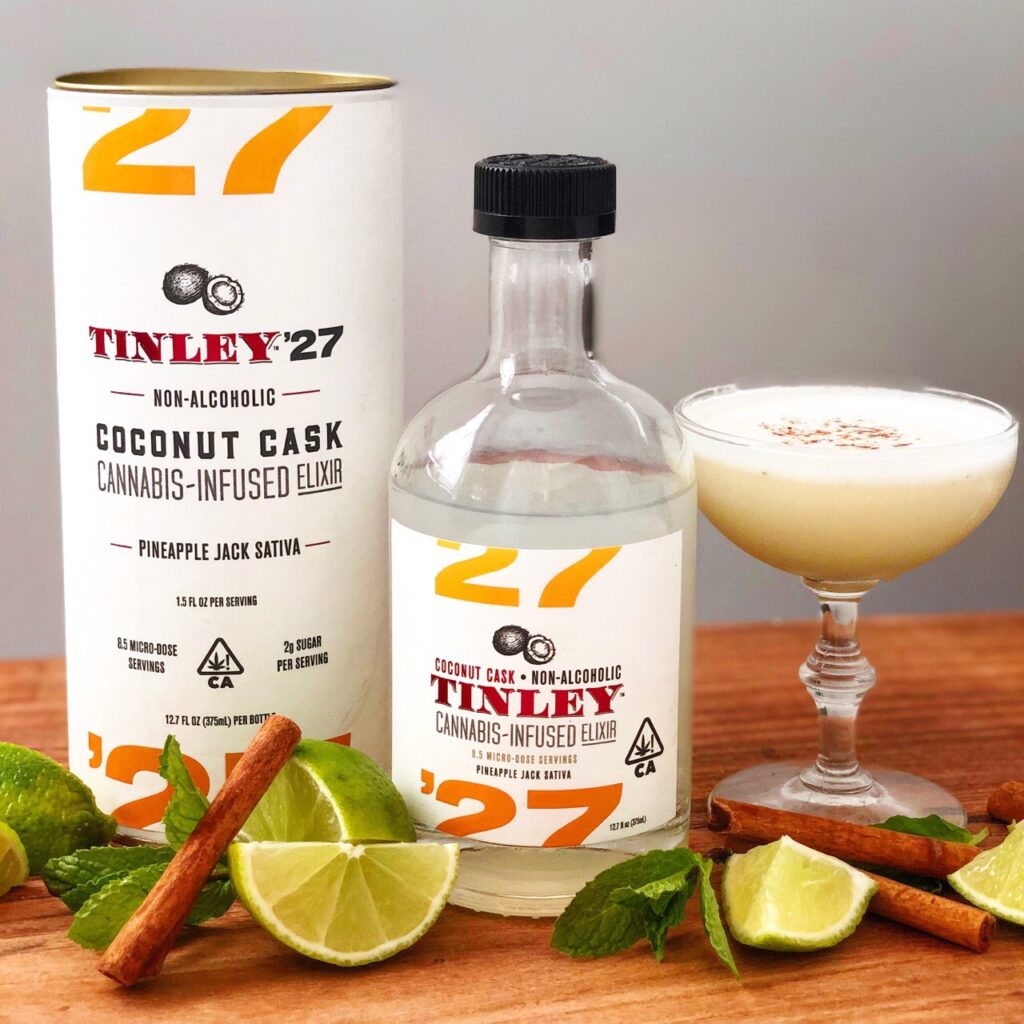 Working with Tinley Elixirs in cocktails is a dank dream because these alcohol-free "spirits" have robust flavors and nuance that stands up in a cocktail. More importantly, the brand's proprietary nanoparticulate emulsion technology means these products have a rapid onset, giving them a more alcohol-like effect that consumers can understand and relate to their experiences drinking their favorite wine, beer or cocktail. Expect to feel these come in within 15 minutes, and depending on your metabolism, these products may also have a shorter duration.
Happy drinking!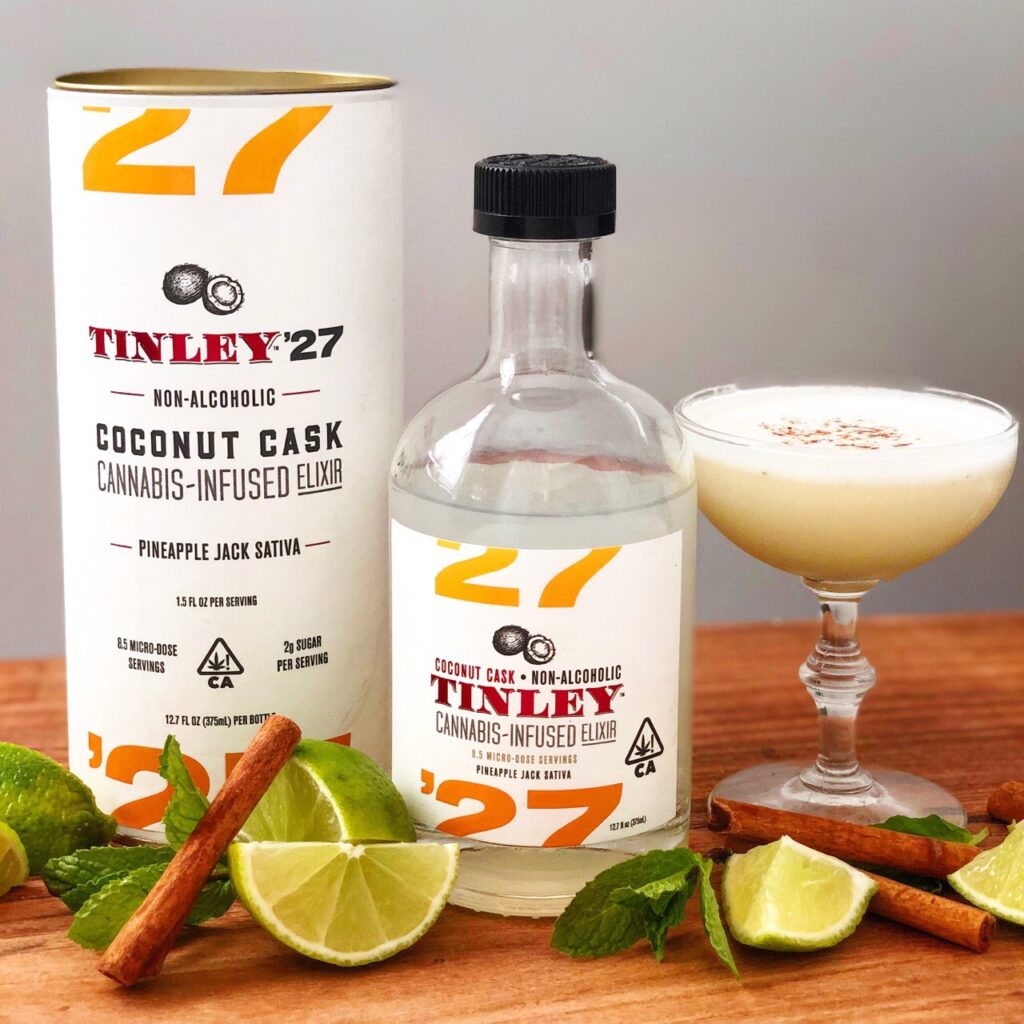 Lime In the Coconut
Approximately 5.5 mg THC

4 capfuls (1 1/2 oz.) Tinley 27 Coconut Cask Elixir
3/4 oz. fresh lemon juice
3/4 oz. 1:1 mint honey syrup
1/4 oz. organic coconut milk
Garnish: Freshly grated cinnamon
Shake over ice vigorously; strain into a coupe. Top with grated cinnamon.

1:1 Mint Honey Syrup
8 oz. honey
8 oz. water
1 cup loose mint leaves

Place all ingredients in saucepan over low heat for 5 minutes, stirring regularly. Remove from heat and let sit for 30 minutes. Strain mint leaves and store syrup in refrigerator until use.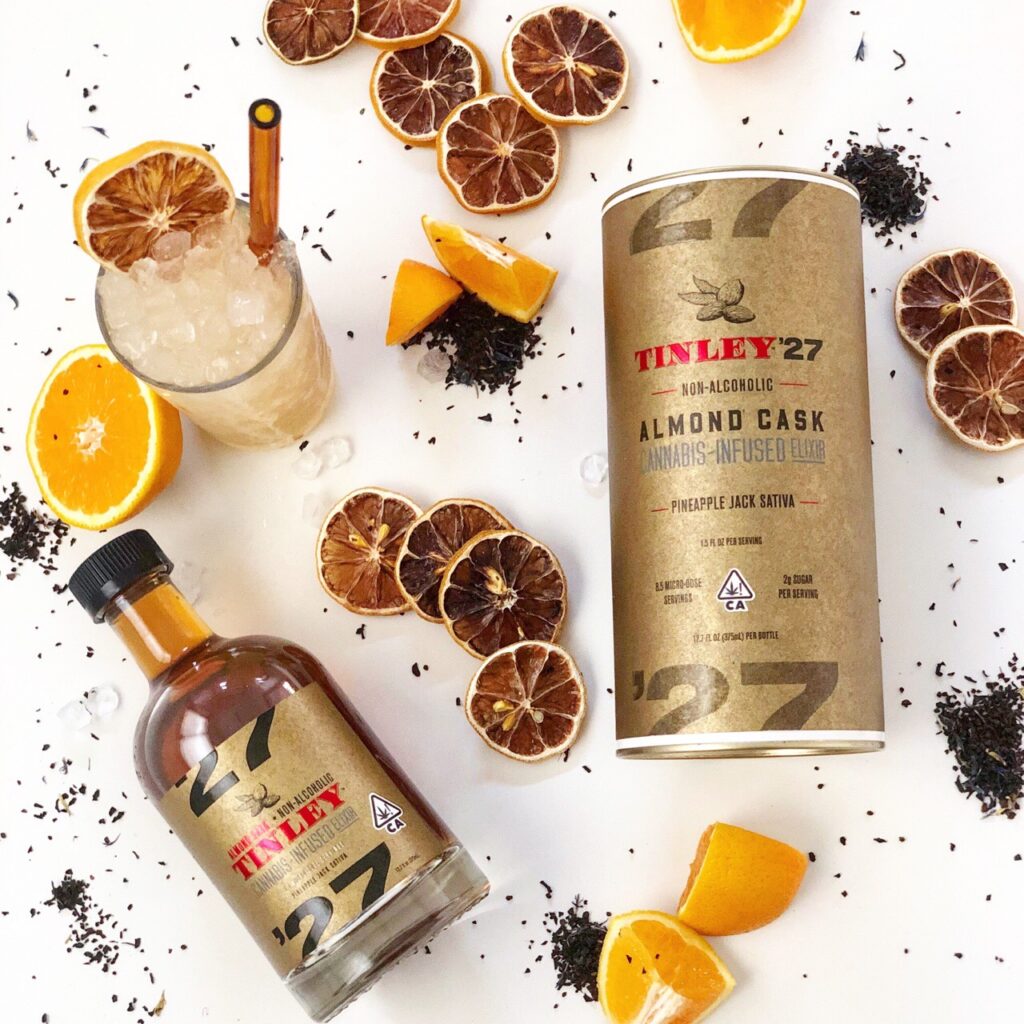 Earl of Orange
Approximately 5.5 mg. THC

4 capfuls (1 1/2 oz.) Almond Cask Tinley
3/4 oz. Orange Earl Grey Tea Syrup
3/4 oz. lemon juice
2 oz. club soda
Garnish: dehydrated orange

Double shake all ingredients except soda water, then strain into a Collins glass. Top with club soda and add crushed ice.

Orange Earl Grey Tea Syrup:
16 oz. Earl Grey Tea (2 cups water to 1 Earl Grey teabag, let steep for 4 minutes)
16 oz. sugar
Zest of 1 orange

Heat all ingredients on high until sugar dissolves. Let sit for 10 minutes off heat.
Strain out oranges. Store in refrigerator until use.