The first time I saw the Tinley Elixirs line, I was impressed. Instantly, the brand evokes familiarity, which its spirits-inspired packaging, including a chic tin canister that's immediately reminiscent of premium Scotches.
It's the type of smart packaging and marketing we're seeing a lot of in the cannabis space these days – clean, modern, and chic – but importantly, this brand's packaging tells your exactly what to expect from – and how to work with – its contents inside. With just one look, it's clear that this is a cannabis infused beverage that should be treated like a spirit, worked with in mocktails and THC cocktails like a spirit, and should be tasted and consumed like a spirit.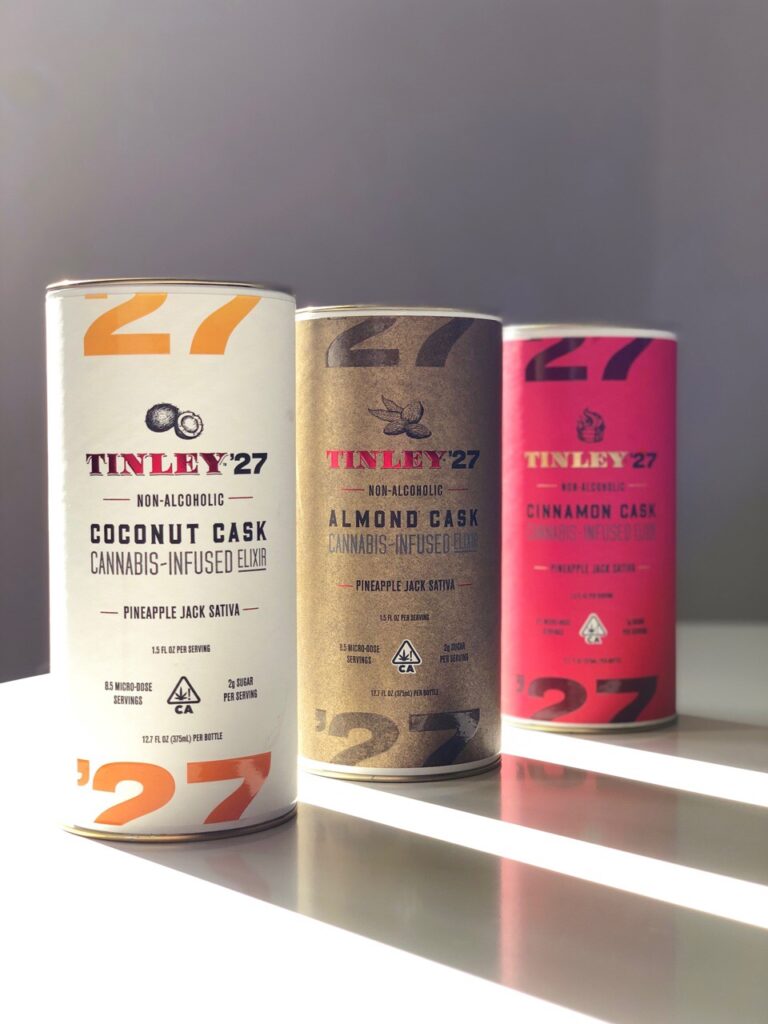 There are a few other things to love straight off the bat with the line of Tinley Elixirs: First off, I am a huge fan of calling out strain-specific infusions – even if it's largely meaningless in this form. Calling out a specific ingredient used in the creation of any food and beverage product is a major part of the storytelling surrounding the brand, and indicates transparency and a sense of care; and with cannabis products in particular, calling out single varietals goes a long way in helping the consumer understand what sort of effect to expect from that product. Even though I may rail against the meaninglessness of terms such as indica versus sativa, they're still helpful guideposts for the consumer, who will look at something infused with "Pineapple Jack Sativa" as both tasty and uplifting.
Another thing Tinley does so well with its Elixir line is evoke classic and existing spirits: the Coconut Cask offers a flavor profile similar to a light coconut rum; Almond Cask has a rich, enticing cherry Amaretto quality, and Cinnamon Cask is the brand's take on Fireball whiskey. These flavors are both versatile and classic, and comfortable enough for the at-home mixologist to play with.
While Tinley's Elixir line does much well, I do find its dosage labeling maddening. While each bottle is clearly labeled with its total cannabinoid content, figuring out an individual serving's dose requires a calculator. The Tinley Almond Cask Elixir, for example, is 45.9 mg. THC per bottle, and the bottle is labeled as "8.5 microdosed servings." Ok, so I pull out my calculator (let's be real, it's my phone), do a little simple division, and find out that one serving is 5.4 mg. The bottle then tells me that 4 capfuls = 1 serving. So again, I pull out my phone, do one more calculation, and discover that 1 capful = 1.35 mg THC. To be fair, the bottle does also say that 1 serving also = 1.5 oz., which is an actual normal/real bartender measurement (trust me, you won't find any mixologists measuring their mezcals in "capfuls!"), but there's a whole lot of math involved in trying to figure out dosage, and frankly, when it comes to the consumer, understanding dosage is everything.
Dosing aside, the Tinley Elixir line is a really exciting step in the evolution of cannabis beverages, and I'm a fan of the product as a whole. Read on for my tasting notes and scores for each expression, and grab some recipes here.
Tinley 27 Coconut Cask Elixir: Subtle suntan lotion nose with pineapple-sweet undercurrent gives way to saline and toasted coconut marshmallows. The Stevia flavor drives the palate with persistent sweetness, and the finish is softly sweet. This elixir begs to be mixed into a variety of THC mocktails, with its beachy vibes and easy drinkability. 91
Tinley 27 Almond Cask Elixir: Orange zest, black tea and vanilla-cherry nose is enticing and draws you in. Sweet, nutty flavors mingle with vanilla, and a bracing chicory bitterness cuts through, giving the drink a sense of texture and mouthfeel. Rich and robust, this elixir stands up beautifully on its own, chilled, over ice, with an orange zest, and is a dream in classics like Old Fashioneds and Manhattans. 94
Tinley 27 Cinnamon Cask Elixir: Cinnamon bark, clove and baking spices with a hint of white pepper combine for a spicy, nuanced sipper with a kick. Bold flavors take the edge off any lingering extraction-related funkiness, and this makes for a great whiskey-replacer in a variety of THC cocktails. 91