As two items of the earth, it's no surprise that cannabis and wine have plenty in common.
First, cannabis and wine both have terpenes, molecules which can impart both flavor and effect into the overall consumption experience, whether you're drinking or smoking.
Second, cannabis and wine are both highly influenced by terroir: the composition of the soil they're grown in, the conditions of the humidity, wind, and fog throughout their life cycle, and, of course, how much sun and rain the plant receives where it's grown.
Then, of course, there's the human aspect: From hand-pruning and dry-farming techniques, to closely monitoring vines and cannabis plants to ensure harvesting at peak ripeness, cannabis and wine both go from an agricultural product to something more once the human touch becomes part of the equation. Ultimately, the winemaker is what distinguishes great Pinot Noir from the good, and the farmer can take a Jack Herer from a classic standby to truly exceptional smoker. Whether the difference comes from selecting casks or curing lengths and techniques, cannabis and wine both benefit from finely tuned cultivation techniques and post-harvest, pre-market strategies.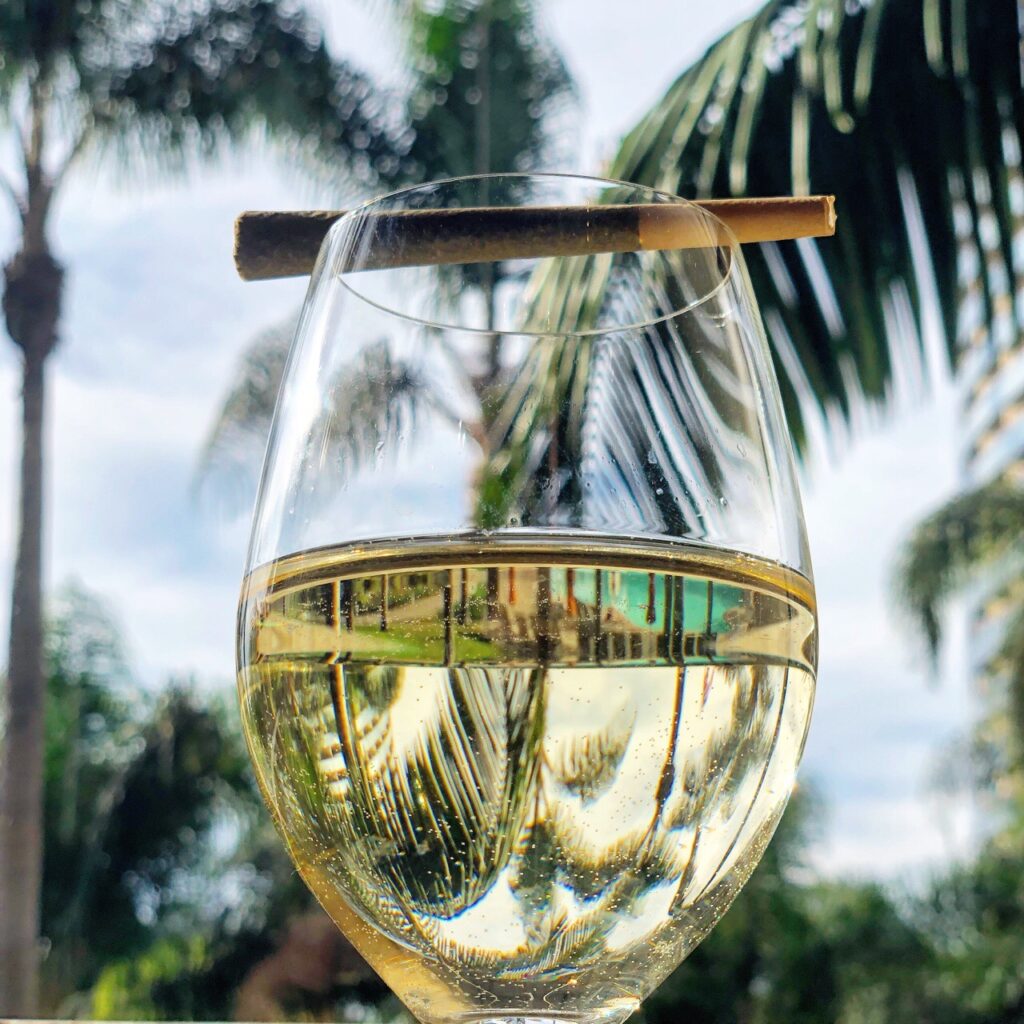 Once the wine is aged and bottled, and once the cannabis is cured, trimmed and tested, both wine and cannabis become a consumer product and have the most important thing of all in common: Enjoyment! For all we talk about terpenes and terroir and flavor and nuance in both wine and cannabis, at the end of the day, there's one big thing we as humans LOVE about these products: They're inebriating!
It's not a topic frequently discussed as part of wine journalism, marketing or commentary – can you remember the last time a sommelier proudly told you that his winemaker reserve late harvest Riesling got him suuuuuper drunk? We definitely hear more about potency – aka "dankness" – in cannabis, with products coming to market with an increased focus on THC content over other factors such as flavor or quality. Frankly, there has got to be some middle ground, where we can acknowledge that Champagne's delights include giddy giggles, the occasional hiccup, and a hangover headache alongside notes of toasted brioche and persistent, pretty bubbles, and that cannabis can taste fantastic – without making you melt into your couch.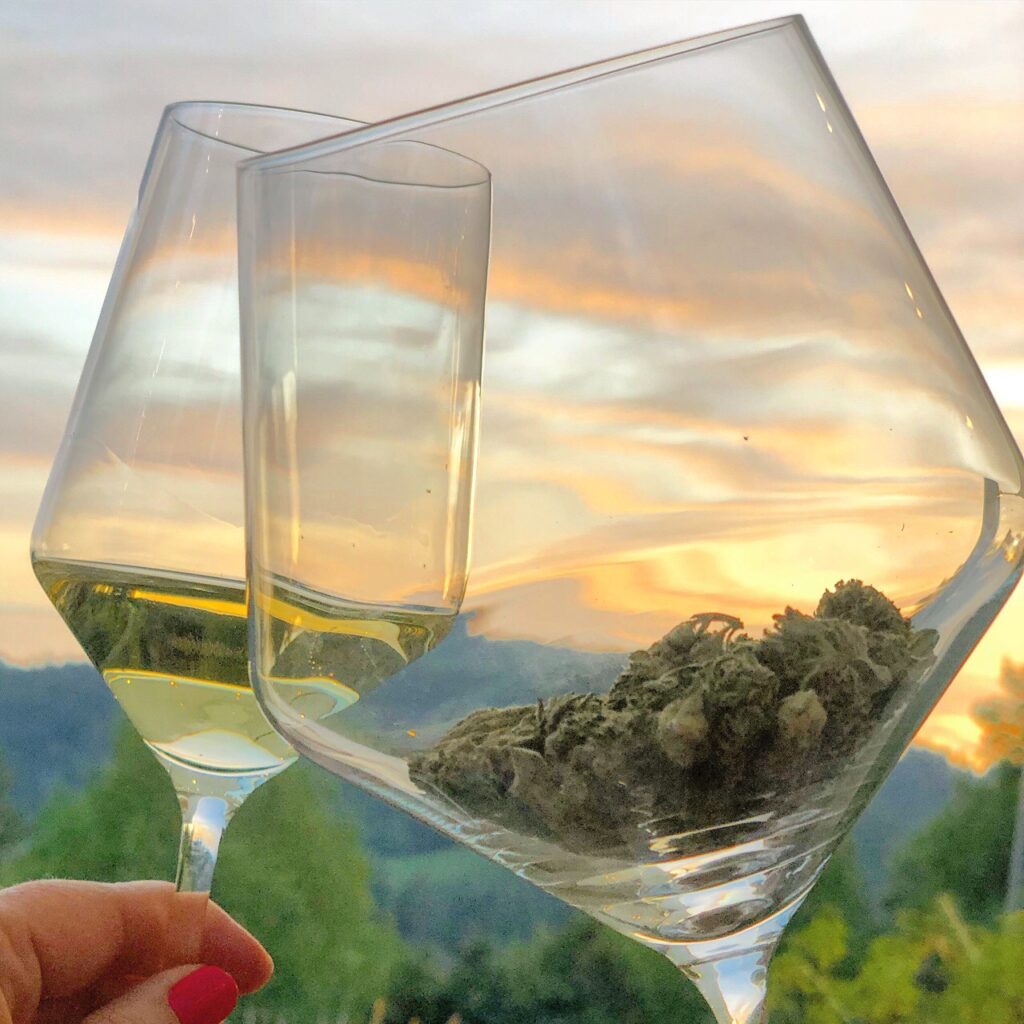 There's a social aspect to wine – drinking in general, really – that crosses many cultures globally, and for me, this is where we really begin to see wine and cannabis diverge. While wine has had a place at the dinner table, in castles and churches, and in our family homes for centuries, cannabis is still re-emerging from the shadows in our modern society, despite evidence proving many cultures have used the cannabis plant for medicinal and spiritual purposes for millennia.
So while alcohol is seen as a right of passage, social lubricant and acceptable edge-offer, cannabis continues to exist on the fringe of social consumption, still largely consumed in secret, alone, or in the dark, due to legal restrictions, outdated fears and stereotypes, and general lack of opportunity to consume cannabis in public.
The burgeoning cannabis beverage market is uniquely positioned to combat this challenge because its products can offer a seamless transition from the world of wine and cocktails and beer – to cannabis. Think about it: You're at a party. You know a few people, recognize some people in the corner from other parties but forgot their names, desperately want to avoid a few exes and spit-talkers, and everyone is drinking. With a cannabis beverage, you're able to tap into the convivial part of social drinking: the intoxicating, connection-building togetherness that inexplicably, inevitably arises out of shared inebriation. And it gives you something to do with your hands!
I have personally done this many times at non-cannabis parties: Knowing I would be the only cannabis consumer at an event, I may choose to leave my joints at home (or leave them in my purse until later in the night when my non-cannabis friends are tipsy enough to want to get wild), but would feel comfortable mixing and mingling with a cannabis beverage in my hand. I'm a big fan of the Hi-Fi Hops from Lagunitas, for example, which at first glance, looks identical to any craft brew. It usually takes a while, but eventually someone will ask me, "What are you drinking?" I'll always answer truthfully and offer a taste – but people don't often take me up on this, because, frankly, they're scared of cannabis ingestibles.
But while classic edibles products may scare off some consumers with notions of delayed onsets, 4-6 hour durations, and unreliable dosing, cannabis beverages are uniquely positioned to resolve some of those issues, thanks to a rapid onset as a result of increased bioavailability. AKA, because cannabinoids are fat-soluble, they need to be broken down into tiny little particles in order to become "water dispersible," or seamlessly integrated into its carrier liquid. This means that these mini-cannabinoids are absorbed through the mucus membrane in your mouth, rather than being processed through your liver like traditional edibles, so the cannabinoids "hit" faster, giving cannabinoid beverages a more alcohol-like effect, where consumers who already know how one glass of wine makes them feel versus three glasses of wine, and may be able to more seamlessly apply that same understanding to cannabis beverages.
On a mission to further explore that concept, I'm kicking off weed and wine week here with a highly scientific study: I'm going to drink a bottle of wine, recording my tipsiness along the way, monitoring my feelings the next day, and in general, doing something many of us have experience doing already – having a blast drinking an entire bottle of wine by ourselves. Two days later, I'll do something I've actually never done before: drink an entire bottle of de-alcoholized THC wine, recording my sobriety with each glass, and feelings of wellness the next day.
Basically, I'm going to have a lot of fun this week. Stay tuned for this little experiment, but tell me in the comments now – what do you prefer: wine or weed?