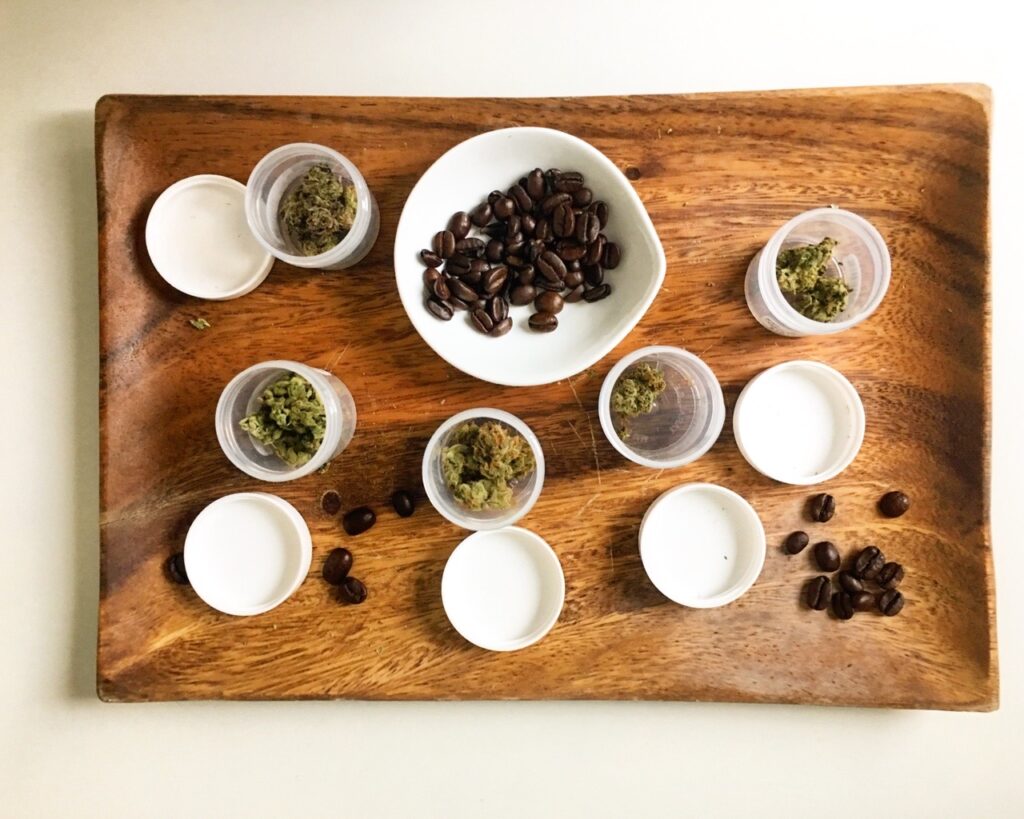 Yes, you CAN taste cannabis!

When I was a wee little baby stoner, my cannabis consumption was, frankly, uninformed and immature. I didn't know any better, and I didn't have great access, so I smoked whatever I could get, out of whatever I had on hand – which at the time, was mostly whatever dirty pipe was being passed around at a party.

So it is not surprising that for years, if you would have asked me what cannabis tasted like, I'd probably say something like skunky, smokey and burn-y. This may have also been during a period where I referred to gin as "pine tree liquor" and considered Boones Farm the best vino for its value, so let's just say there was not a lot of sophistication across the board.

Then, although my wine and spirits knowledge and palate evolved through the years, it took me a while to begin considering flavors and aromas when I used cannabis. But once I did, and once I started paying attention to the way cannabis smelled and tasted, a whole new world of pairings and parties and possibilities opened up. But I'd venture to guess that there are A LOT of people out there I was a few years ago: People who enjoy being high, or rarely smoke, or haven't smoked since high school, people with memories of accidentally inhaled bong water, and coughing through flavored blunts, and

But to master these skills, you must first learn to taste cannabis, and I am so pleased to tell you that YES, you can learn to taste cannabis! First, let's examine the technique: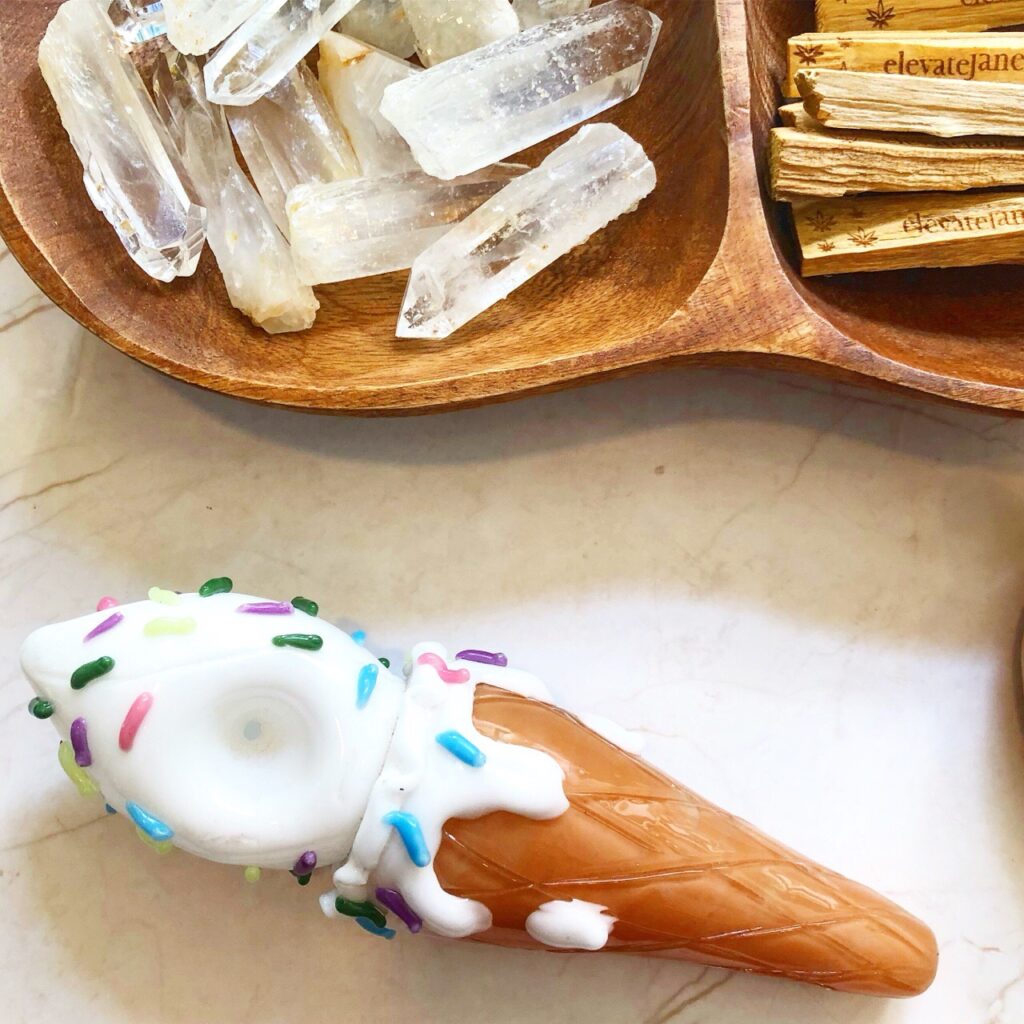 What Are You Smoking Out Of and With?
Ok, so first thing's first: if you're smoking out of a pipe or a bong, make sure that shit is clean. Not only is that for, like, basic health and hygiene purposes, but you just can't taste the flavor of a specific strain if you're also tasting resin of all the previous strains you smoked out of your bong, so check this tutorial and get nice and clean first.

Perhaps that little safety talk was irrelevant to you because you're more of a pre-rolls kinda gal, or maybe you prefer to roll your own. Either way, you should know a few things: the papers you use do matter and can impact the overall flavor of a strain, and no matter how you're smoking, if you're using a lighter, butane will also affect the taste. Some people like to use matches, but I think the overwhelming strike scent interferes with the cannabis aromas. Call me a hippie if you must, but I prefer a hemp wick for the most neutral igniting flavor and aroma, but there are also some cool new electric lighters on the market that work pretty well for joint lighting and look super cute to boot.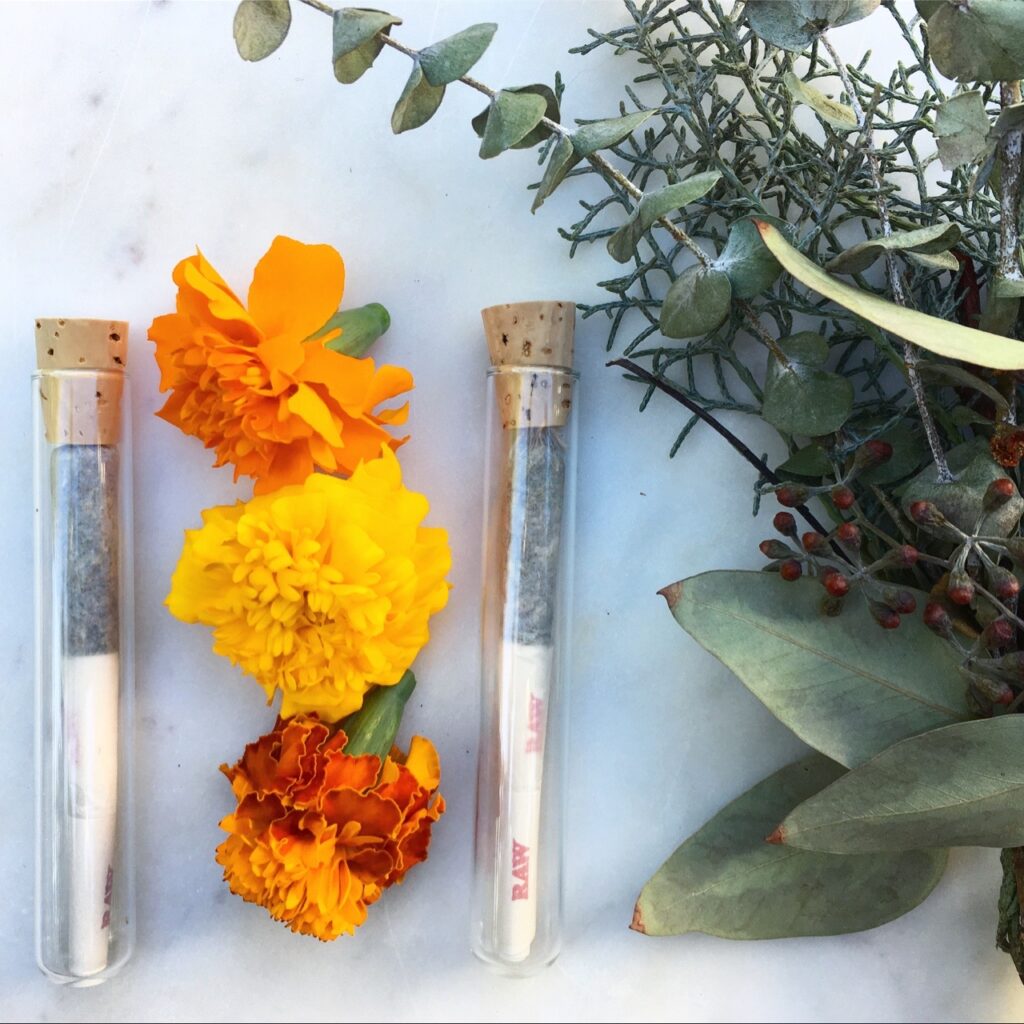 Ok, I'm Ready To Taste
Now that we have the gear covered, let's talk technique. First things first: Let's smell stuff! Again, depending on what you're working with, you'll have a few options to maximize the aromas in cannabis.

When you purchase cannabis and it comes in a plastic bag or container, you'll want to upgrade that situation to something glass if possible. No judgment here – especially as I know I am spoiled here in Los Angeles, the land of the legal – but inexpensive plastic will not preserve the flavor or freshness of your bud, and will interfere with the purity of its aroma as you begin to study it. Keep a few extra Mason jars on hand, and you'll be good to go. Just transfer your product to a jar when you bring it home, and when you're ready to taste, voila! Similarly, if your pre-roll comes in one of those squeezy plastic tubes I hate, pop it in a glass tube if you can. Many premium brands sell their pre-rolls in such tubes, so you can save and reuse, or you can order some of my favorite test tubes online.

From here it's a simple three-step tasting method. First, we'll "taste" with our nose by getting a literal whiff of the strain's terpene profile. As you open your tube or jar, inhale deeply; this first sniff will pick up on broad categories like citrus, florals, and funky skunkiness.

Step two is all about bringing those flavors into focus on the palate with what's called a "terpene pull" or " dry pull." If you're planning on smoking out of a pipe or bong, do this step while your flower is still in the jar: Placing your slightly ajar mouth over the opening, inhale deeply through your mouth. Similarly, if you're smoking a joint (my personal favorite way to taste is through a nicely filtered joint), without lighting it, bring the joint to your lips, inhaling deeply and bringing the flavors of that strain directly onto your palate. This step allows you to fine-tune the flavors a bit, refining from floral to lavender and roses, or from general citrus to bright lime zest. I like to revisit the dry pull several times until I feel like I've been able to fully grasp the nuance of flavor on the palate, paying attention to the lingering flavors on the finish, and the subtle undertones that persistently poke through.

But as important as step two is, step three is my favorite – because you finally get to smoke! As you light, inhale, and take that first hit, the full flavor of the burning cannabis will be brought completely onto your palate. This first hit – the "greens" – will be the most flavorful you'll get; savor it!
The Nose Knows
Now that we know how to taste, analyzing two or more strains in a comparative tasting is a great way to begin to understand the nuance and diversity across flavors of cannabis. Taste through one strain, then move onto the next, and another, taking tasting notes as you go (I recommend the Cannabis Taster by Gold Leaf). You'll find that some will be sharp, peppery and bitter, or others will jump out at you with bright citrus, and some will be deeply funky skunky.
You won't be able to gauge effect when smoking several strains against each other, but you'll get a good grasp of how the flavors speak to your palate. Once you know what you like taste-wise, try smoking that on its own to better understand the way specific strains – and their flavors – might make you feel.

From there, you may find yourself drawing some conclusions linking the flavor and effect of strains you like. For example, strains that smell and taste like citrus tend to make me buzzy and happy and productive, so when I am smelling flower at the dispensary, I always gravitate to the citrusy aromatics. Of course, much of that is driven by terpenes and cannabinoids, and the stuff you can analyze in a lab – but once you understand and learn how to taste cannabis, the nose knows. Trust it and let it be your guide!