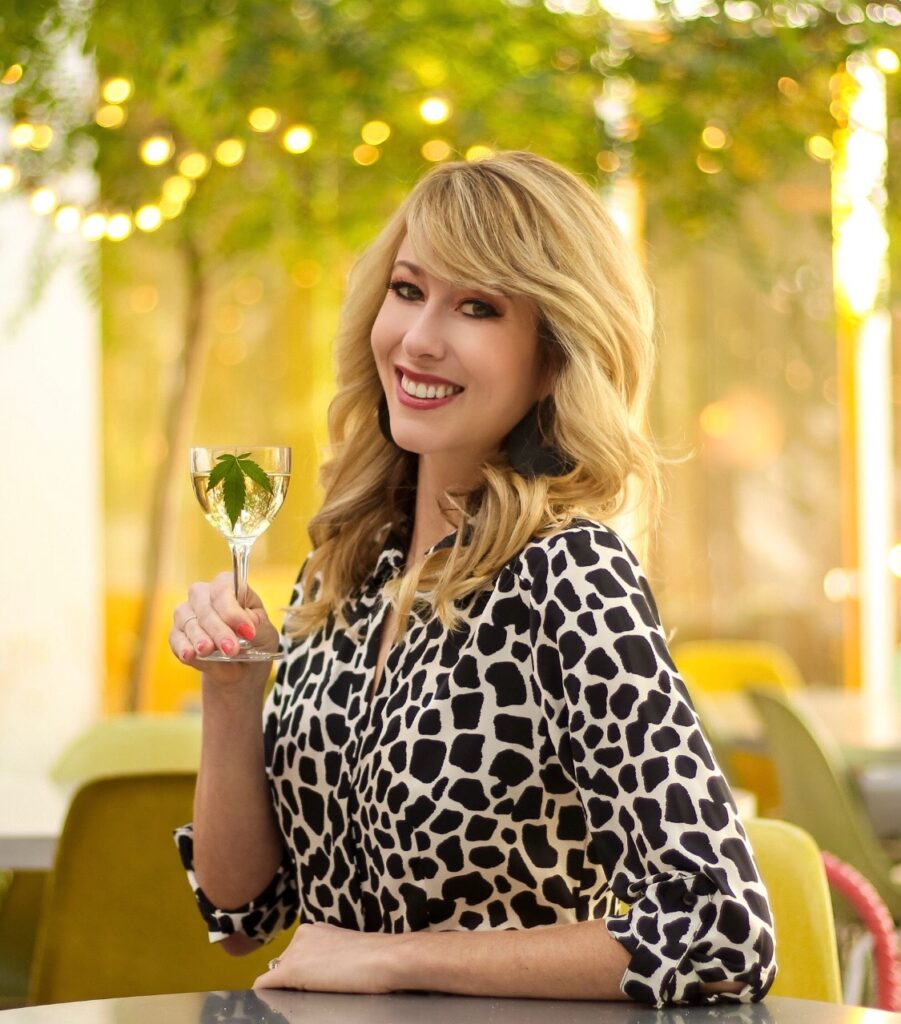 Jamie Evans, Founder of The Herb Somm, is someone you'll probably hear me write about more than once on this blog, because she's a dear friend, frequent collaborator, and fellow culinary cannabis professional. We somehow began following each other on Instagram years ago, and after an exchange of likes back and forth, one day I slid into her DM's and said "Is it weird that I want to be best friends with you?"
Thankfully, she didn't seem to think my friendship proposal was too weird, and years later, here we are, actual real life friends! Jamie is an events producer (check out her Thursday Infused series), educator, and author (buy The Ultimate Guide to CBD here!) whose hard work constantly inspires me. We've had the opportunity to work together on several dinners through Altered Plates, and as the Co-Executive Directors for Crop To Kitchen, Jamie and I communicate a lot about how to work with and serve the culinary cannabis community.
Although Jamie lives in the Bay Area, her husband, the adorable Stratos, grew up near where I live, so I get to see them both frequently around holidays and family visits. Of course, we've also bopped around in San Francisco together, eating delicious food, drinking great wines, and smoking good cannabis, so it is safe to say that Jamie and I have not let the distance between us hold our friendship back.
We recently started an Instagram Live series together, Herb & Smoke, streaming on @TheHerbSomm Instagram account every Thursday at 5pm, so be sure to tune in and follow us both there!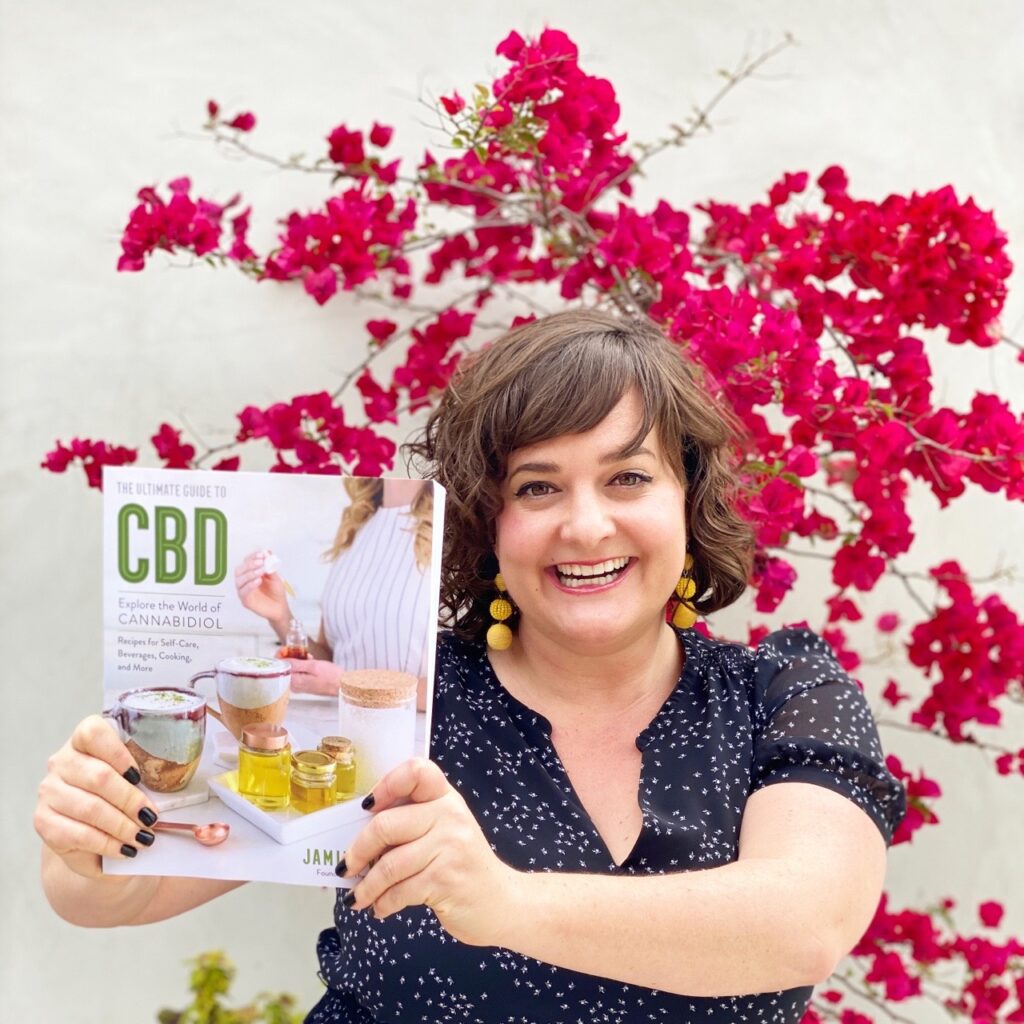 When was your first ever experience with cannabis, and what was it like? My first experience with cannabis took place while growing up in Truckee, California. Not knowing anything about the plant, I smoked a bowl of flower from a bong with some friends and got incredibly high. I just remember laughing for hours, followed by an intense wave of the munchies. Everything tasted so good! After that, it wasn't until college that I began having a greater interest in cannabis. I quickly discovered it was incredibly useful for sleep; it helped me relax, plus it shared many similar aromas and flavors to the wines I was learning about in my sensory evaluation classes. Even back then, I perceived a unique connection between the two.

What made you decide to follow a wine education and career path? Pursing a path in wine was originally my mom's idea. As a high school counselor, she knew that Cal Poly San Luis Obispo had just launched wine and viticulture as a major and that the wine industry in the Central Coast was booming, making it an ideal place to learn. Her advice was to apply, in which I did. At the young age of 18, this was the best guidance I could have ever asked for. Not only was I accepted into Cal Poly's Wine & Viticulture Program, but it truly changed my life. During my studies, I had the opportunity to travel the world to learn about wine in Australia, France, Switzerland, and Italy. I fell in love with the industry and knew this is where I needed to be, at least for the time being.

Was there a "lightbulb moment" for you with cannabis and wine? As we say in the cannabis industry, your nose knows! My first "lightbulb moment" was recognizing all the similar smells between wine and cannabis. When I was studying how to evaluate wine, I also practiced evaluating cannabis and found the aromas to be complementary. As I began to learn more about cannabis, I quickly discovered that the cannabis plant takes on a sense of place and practice. In other words, cannabis directly reflects terroir, just like wine. Coming from a wine background, it's been incredibly fascinating to learn about the regional differences between cannabis strains and how environmental factors can impact terpene and phytocannabinoid production.

What is your preferred way to consume cannabis? My favorite way to consume cannabis is by ingesting it in an edible or drinkable form or by taking it sublingually with a variety of tinctures incorporating a blend of different phytocannabinoids. I consider CBD a daily vitamin. I love integrating it into my morning routine and then supplementing with THC or CBN at night to help with sleep. We are so blessed in this day and age to have access to products that allow us to dial in what phytocannabinoids we are in need of, helping our bodies stay in check. Cannabis is also a personalized medicine. In order to discover what works best for you and your personal needs, you might have to experiment with different applications and ratios to discover your perfect balance. I typically enjoy products that have a high CBD to low THC ratio.

What made you decide to take the leap from wine into cannabis? After working for over a decade in the wine industry learning from some of the most established winemaking families in the world, I chose to leave the industry I love for a few reasons. In early 2017, I witnessed a terrible car accident that really shook me. While trying to work through this trauma, I was having a tough time sleeping. I didn't want to take pharmaceutical drugs, so I turned to cannabis, but this time for medical purposes. When used with intention, cannabis not only helped with my sleep, but it improved many other aspects in my life including my relationships, self-care, and overall happiness. I knew I wanted to dedicate my career to cannabis because it has the power to heal us. During this time, a friend invited me to a "Women in Weed" conference in Oakland. For the first time in my life, I was in a room filled with female founders and CEOs from different cannabis companies. For anyone who has ever worked in the alcohol industry, leadership is heavily male-dominated, so it was so inspiring to learn from so many innovative women who were carving a path for themselves in this space. This is when The Herb Somm was born. Since then, I've been beyond grateful for all of the opportunities that have come my way in this industry, but I always want to pay tribute to my wine side. Wine will always be my first love, but cannabis is my muse.

Do you have a favorite cannabis and wine pairing? Cannabis and food pairing?When it comes to combining cannabis and wine, I consider rosé one of the most versatile wines to pair with. Because rosé wines typically have higher acidity and more neutral flavors, they pair exceptionally well with a wide selection of cannabis strains, particularly those that have pronounced limonene (citrus) or linalool (floral) terpene profiles. Over the past few months, I've been drinking more full-bodied rosés since it's wintertime. These wines are made from heartier grapes such as Cabernet Sauvignon, Syrah, or Malbec. One of my favorite cannabis strains paired with a bolder style of rosé is Alpenglow Farms' Rosaberry. Fresh, aromatic, and enticing, this unique strain grown in Southern Humboldt County presents aromas and flavors of wild strawberry, bright citrus, and huckleberry followed by hints of savory earth and herbal tea. Because of the strain's distinct red berry notes and hints of citrus from the terpene limonene, it's a perfect match for Correlation Winery's Napa Valley Cabernet Sauvignon Rosé. Pair this wine and weed combination with Strawberry Goat Cheese salad.

What wine region do you think is completely undervalued and deserves more attention? Greece! I absolutely love Greek wines and think they pair exceptionally well with many different types of cuisines. Look for Assyrtiko, a white grape grown on the island of Santorini. I also love Portuguese wines. Vinho Verde is one of my go to's lately as well as Baga, which is a red Portuguese wine grape variety.

Who is your favorite person to get high with? My husband, Stratos. We both work in the cannabis industry, so it's fun to explore all the different products and brands together. He's also incredibly knowledgeable about cannabis, so I always learn new things from him. Additionally, he's the first person to try any new infused recipe or infusion that I create at home, so there's a lot of laughter in our house.

What are your favorite flavors to play and pair with in cannabis? Cannabis is a fun ingredient to pair with because it's incredibly complex! My philosophy is to try to compliment the flavors of the plant, rather than hiding it. Some of my favorite flavors to play and pair with include a variety of citrus fruits, earthy ingredients (think mushroom risotto) or herbal sauces (think pesto or chimichurri). I also love the floral notes of cannabis, which pair well with floral wines such as Riesling or Gewürztraminer.

What are some of the biggest opportunities you see for professionals looking to make the jump from wine to weed? I think the infused beverage category is incredibly interesting for anyone who's worked in the wine and spirits world. Because this segment is so new to the cannabis space, I think there's tremendous potential for growth.

What is the most important thing you can teach your guests at an Herb Somm dinner? In 2018, I started a dinner series called Thursday Infused. My number one goal is to teach people how to eat infused foods safely and responsibly. I also want to demonstrate that cannabis is an incredible ingredient to cook with as it has the ability to enhance the dining experience. Not only does cannabis add so many new and exciting aromas and flavors, but it also has the ability to add a sense of euphoria. Cannabis brings people together, which makes it a perfect addition to any culinary experience. This is why I wanted to be a part of Crop-to-Kitchen, an advocacy group and a trade organization on a mission to support the culinary cannabis community.

In the Bay Area you have access to both wine and weed country – what makes California such a special bounty for these two agricultural products? Something that I've always believed in is what grows together, goes together. California's winegrowing regions make perfect cannabis growing regions because of our unique terroir. In California, we are blessed with some of the best farming land, sunny days, and the perfect climate for growing agricultural products. Plants grow extremely well here, so it's only natural that both wine and cannabis flourish in these conditions. California is not just known for its great wines. We also have world-class cannabis that people around the globe want to experience.

What are the three biggest similarities between cannabis and wine? There are many similarities between cannabis and wine, but if I had to pick three they would be: 1) Similar growing regions and the plant's ability to directly reflect terroir. 2) Similar characteristics, aromas and flavors, which come from organic compounds known as terpenes. Click here for my Terpene & Aroma Pairing Guide. 3) Both wine and cannabis are gourmet products that belong at the dinner table alongside our favorite foods!

You're a passionate traveler – where have been some of your most epic trips? Any amazing travel-related food experiences? When it comes to dining, I love international cuisine! Some of my favorite foodie destinations have been Portugal, Spain, and Greece. Knowing this, you'll often find me at Spanish or Portuguese tapas bars or eating Greek/Mediterranean fare. I am also a big fan of sushi and Japanese food. While I haven't been to Japan yet, it's on my travel bucket list next.

What can we expect from your upcoming book, The Ultimate Guide to CBD? If you're looking to discover new ways to incorporate CBD and cannabis into your daily routines and rituals, my new book, The Ultimate Guide to CBD: Explore the World of Cannabidiol is a perfect introduction! My goal with this book was to uncover the truths about cannabidiol and to teach others all the many ways that they can use it whether it be in the kitchen, for self-care, or treating a pet. Featuring a wealth of practical information, plus DIY recipes ranging from easy to advanced, this book is truly a must-have for both beginners and enthusiasts. I also wanted to include the voices of many different experts who are specialized in the sections that are covered in the book. For example, you can find a number of recipes created by leading cannabis chefs such as Chef Holden Jagger and Chef Coreen Carroll, or learn about how CBD can interact with medications from leading cannabinoid researcher and neuroscientist, Dr. Michele Ross. This book is truly the full package. I hope you enjoy it as much as I do. (Be sure to look for Rachel's expert spotlight, plus some of her delicious drink recipes featured in the CBD & Beverages chapter!)

What is your favorite terpene – in food and or cannabis? I am a big fan of the terpene limonene. This citrus-forward terpene provides energy and has the ability to elevate my mood. I am naturally drawn to cannabis strains that have pronounced levels of limonene's signature characteristics of lemon, lime, grapefruit, and tangerine notes. I adore Tangie and Forbidden Fruit (which is a cross of Cherry Pie and Tangie). Both of these lovely stains pair exceptionally well with citrus-forward wine and cuisine. I also love the terpene, alpha-Pinene. Growing up in Tahoe, I was surrounded by pine trees, so this terpene feels like home.