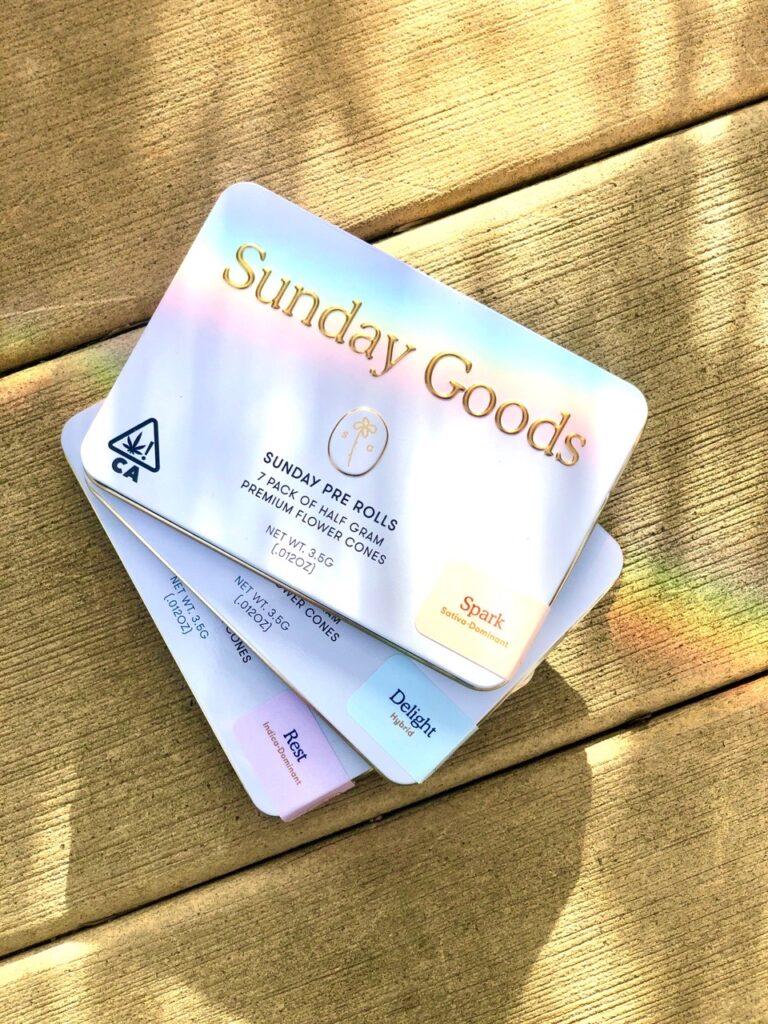 I've seen Sunday Goods around for a while, but recently had the chance to give them a try when Altered Plates partnered with Weedmaps on a pairing dinner, with Sunday Goods as the featured brand. I'd long admired the pre-rolls' branding, with chic seven-pack tins that are offered in three effect-based expressions, Spark, Delight, and Rest.
There are a lot of companies out there focusing on branding their products by effect rather than strain, and for the most part, it makes sense. Strain names are confusing and possibly too stoney-sounding for these new brands' imagined target consumer: soccer moms, millennial cannacurious, and earthy L.A. hipsters who are much more likely to pick up something called Spark than Chemdawg.
While there's definitely something to be said for simplifying the consumer choice into products that are named after the intended effect, I tend to find that many products that package themselves in this way do so as an excuse to NOT source quality or single stain flower. As in, "Got a bunch of trim from sort of sativas? Cool, let's call it Awaken and turn it into a shitty pre-roll."
So I do like that Sunday Goods also does call out specific strains with these effect-based products, like the afeorementioned Chemdawg in Spark, Gelato, Wedding Cake or Lucky Charms in Delight, or Papaya or Purple Punch for the Rest. I had the chance to sample a whole bunch of different packs, and found that the flavors and quality for each category was mostly even across the board, making a Delight a Delight a Delight, no matter which variety was actually in the pre-roll.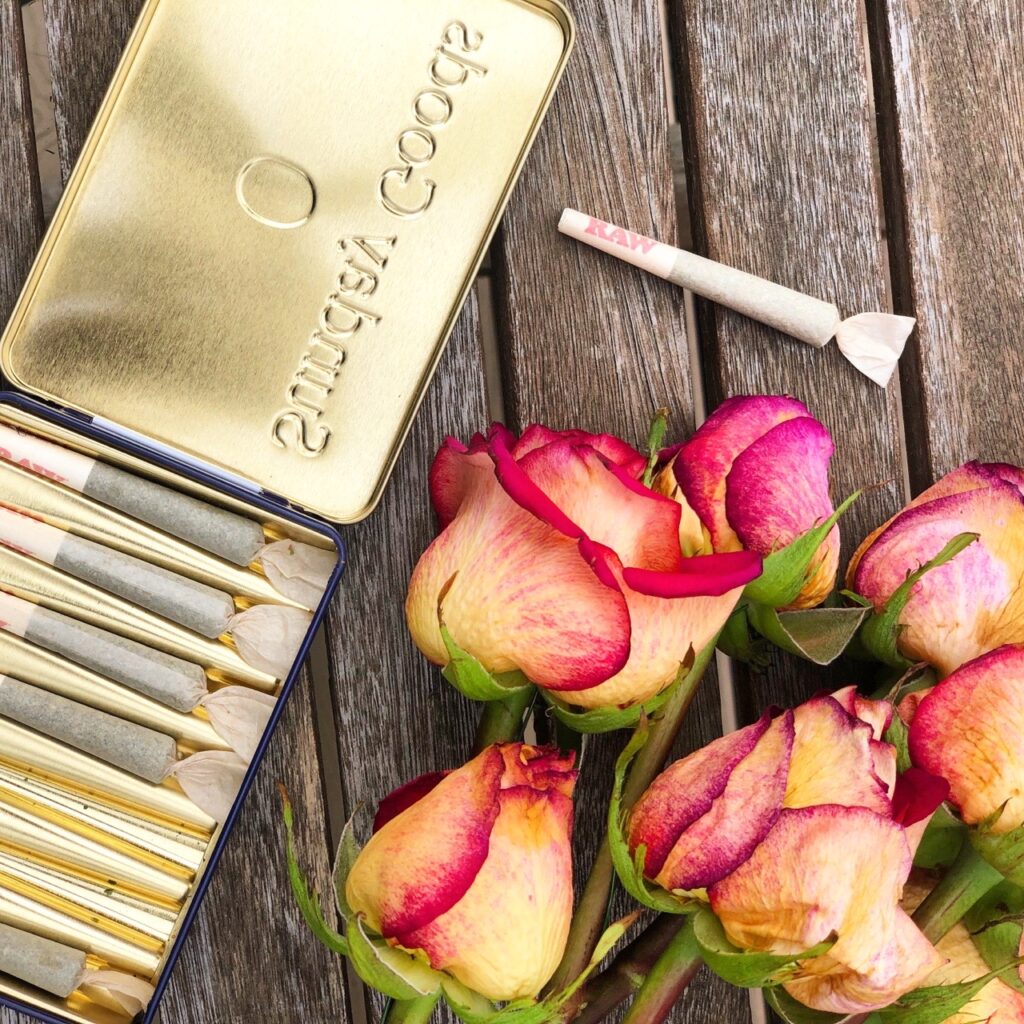 This one-two punch of calling out a specific strain while also boiling it down to a vibe makes Sunday Goods a product that's both digestible to the consumer and can start building those connections between specific varieties and their individuated effects. Furthermore, each pack lists this information on a card that also conveys flavor profile, building the bridge between flavor, terpenes, effect, and varietal, and giving Sunday Goods a complete – if pretty general – connection between these factors, which I like a lot.
Sunday Goods is also proudly features sungrown flower, and "natural papers," although the majority of the tins I had featured bleached papers, but the Delight all had unbleached papers with tails, which I prefer both visually and for smoking quality. This inconsistency was strange and slightly confusing, and I'm guessing came down to a supply issue. I will say that the Delights were, across the board my favorite of the three effects, so I'm guessing that was grown and packed by a separate supplier than the Rest and Sparks, both of which were exclusive in pure white papers with no tails.
Ah, the joys of navigating the legal cannabis space!
Supply chain clusterfuckery aside, there's lots to like about Sunday Goods: The flower is aromatic and flavorful, the branding and packaging is on-point, and the consumer education piece helps move the industry forward. See my individual scores and tasting notes below.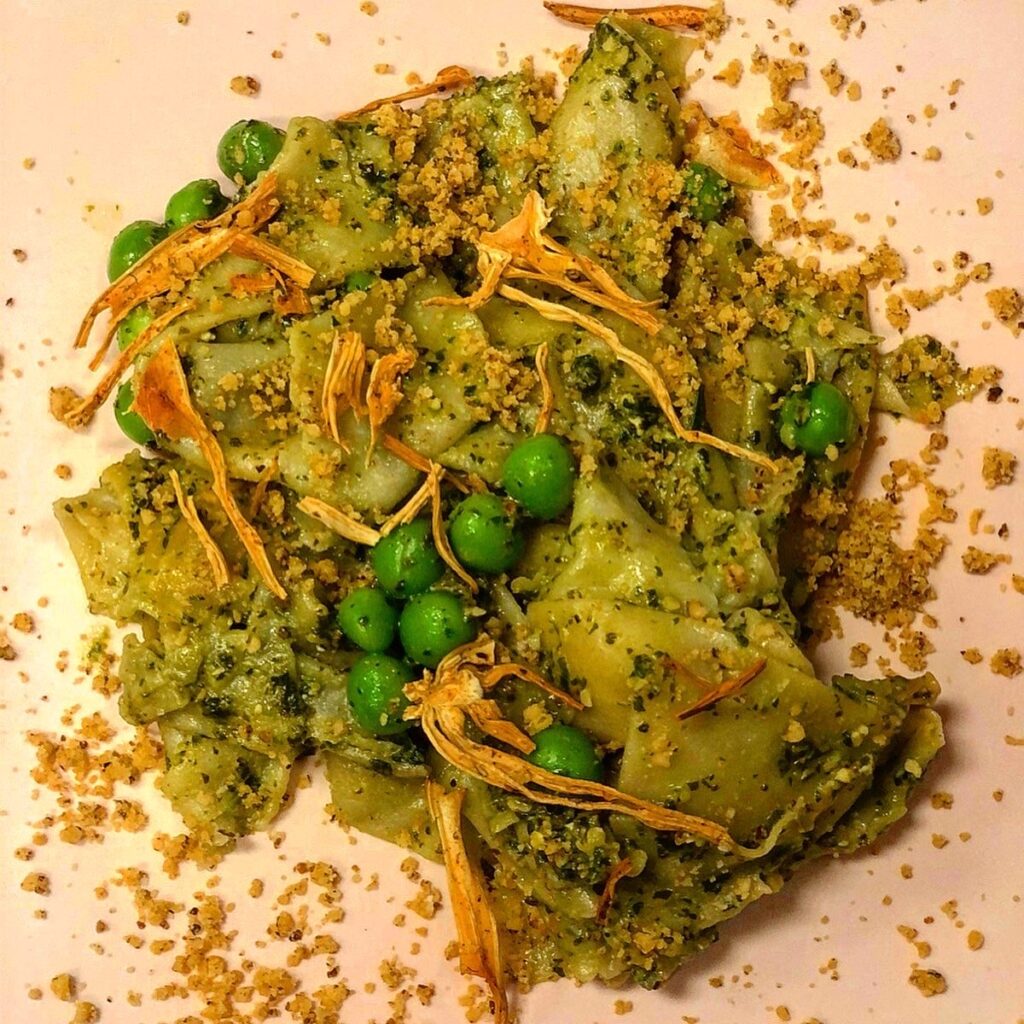 Sunday Goods Spark, Chemdawg
Earthy and robust with chicory and a subtle citrus undertone. 89
The Altered Plates Pairing: Chicory, oro blanco, ricotta salata, smoked beets.
Sunday Goods Delight, Lucky Charms
Sweet berries and baking spices, deep and purple. 92
The Altered Plates Pairing: Malt semifreddo, Gaviota strawberries, oatmeal streusel
Sunday Goods Rest, Purple Punch
Herbaceous green notes on the nose give way to a subtle sweet citrus and peppery undercurrent. 89
The Altered Plates Pairing: Mandilli di Seta, English peas, crispy speck, mint pesto, Parmesan