I wanted to like Herbés; truly, I did.
At first glance, there's nothing to not like about this luxury-branded cannagar, which comes in a chic cobalt blue box that looks expensive, is beautifully designed, and feels fancy. A cigar band cleverly hints to a cigar-like smoking experience, and with two grams of cannabis per cannagar, a glass tip, and kief-dipped* hemp paper wrap, Herbés is definitely trying to offer a vibe. Heck, even its name is tapping into my subconscious to reinforce that this is a luxury product: I nearly wrote Hermès, the famed couture fashion house, three times while writing this paragraph.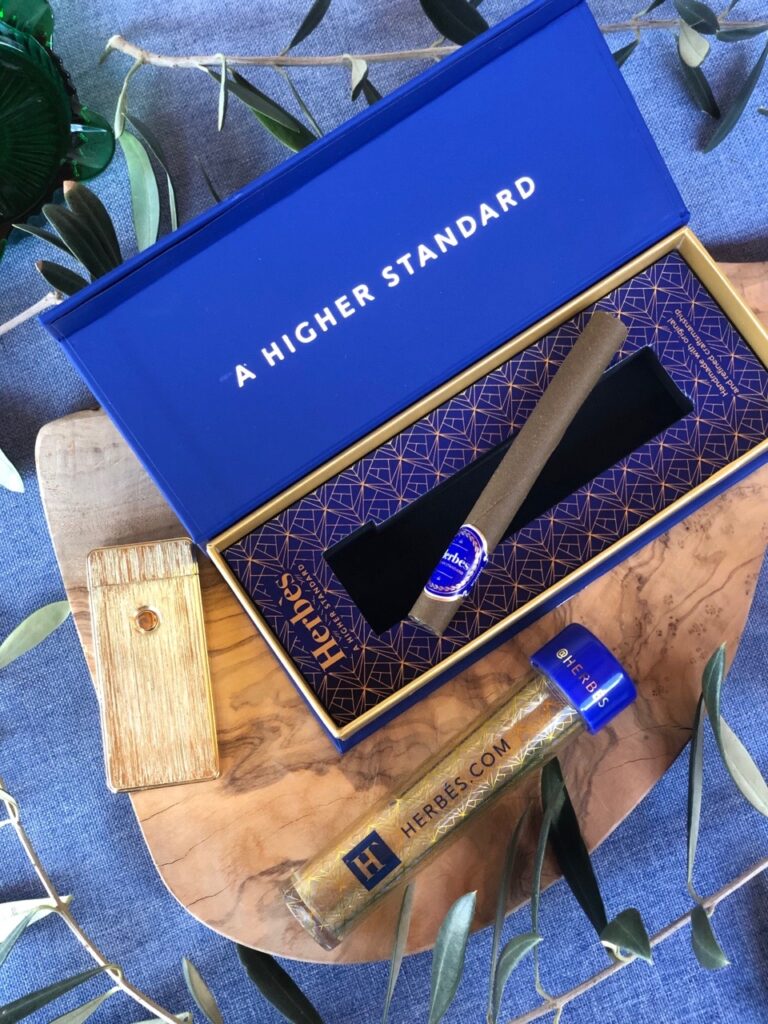 And because I like fancy things, I was very excited to try Herbés when my friend Dena brought one over recently to share. She was excited too, and had been holding on to it to smoke for a special occasion (which, it turns out, is a Monday afternoon meeting with the Cure Designs team).
Frosty and just the right shade of green, I noticed that the flower at the tip of the cannagar looked pretty good, so we lit up and began puffing away, doing our best to hold it like a cigar and channel our inner Scarface.
As we puffed and passed, we definitely noticed that we were feeling pleasantly high, but soon, a strange realization washed over me. It didn't taste like… anything? To be honest, it's hard to describe, even here and now, but I don't think I have ever smoked a cannabis product that that tasted more like… nothing. No bright citrus notes; no funky, earthy, gassy flavors; nary a tasting note to be found, really.
It made for a strange, but not entirely unpleasant smoking experience. The glass tip ensured good airflow through the massive cannagar, and I love the hemp-wrapper concept as an homage to the bounty of the plant. And, I mentioned the packaging is pretty, right?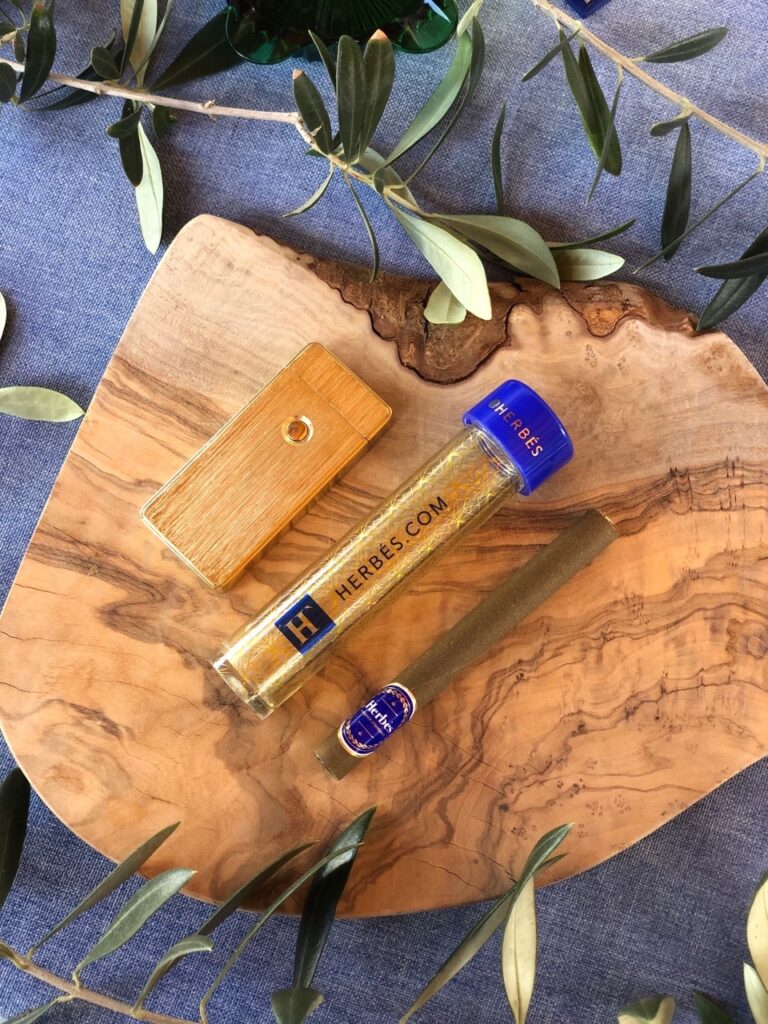 It seems that Herbès, like many cannabis brands coming to market in regulated states like California, has made heavy investments in amazing branding and eye-catching packaging, and used that to tell a story. And it works; you do feel fancy when opening the Herbès box, and oohing and aahing with friends over your assumed wealth and overall swagger. But, man, I wish this tasted good.
It's not like it tasted bad, but when I looked at it, and got excited, thinking, "Wow, this looks awesome! I bet it tastes great!" And it should taste great. If it's a luxury cannabis brand, it should offer a premium smoking experience, and for me – and many others out there – that includes tasting good. And while this form over function approach certainly works and appeals to a certain segment of the market, it's time that brands who represent themselves as "luxury" put out a product that backs that up with more than a pretty box and and clever name.

*Time for a confusing caveat. Herbès says that their cannagar is kief-dipped, but, as you can see from these photos, the one we smoked was not. I have no idea why this is, but a kief-dipped cannagar might prove to be more flavorful than the disappointing dud we had. Not sure what went wrong here, so if I cross paths with an Herbès again in the future, I'll definitely give it another try. Plus, it's really fancy looking, you know?
Herbes Premium Cannabis Cigar: A subtle honey sweetness from the hemp wrapper is the dominant flavor on the palate, along with general cannabis combustion flavors. Great packaging and design boost this one up a point. 85