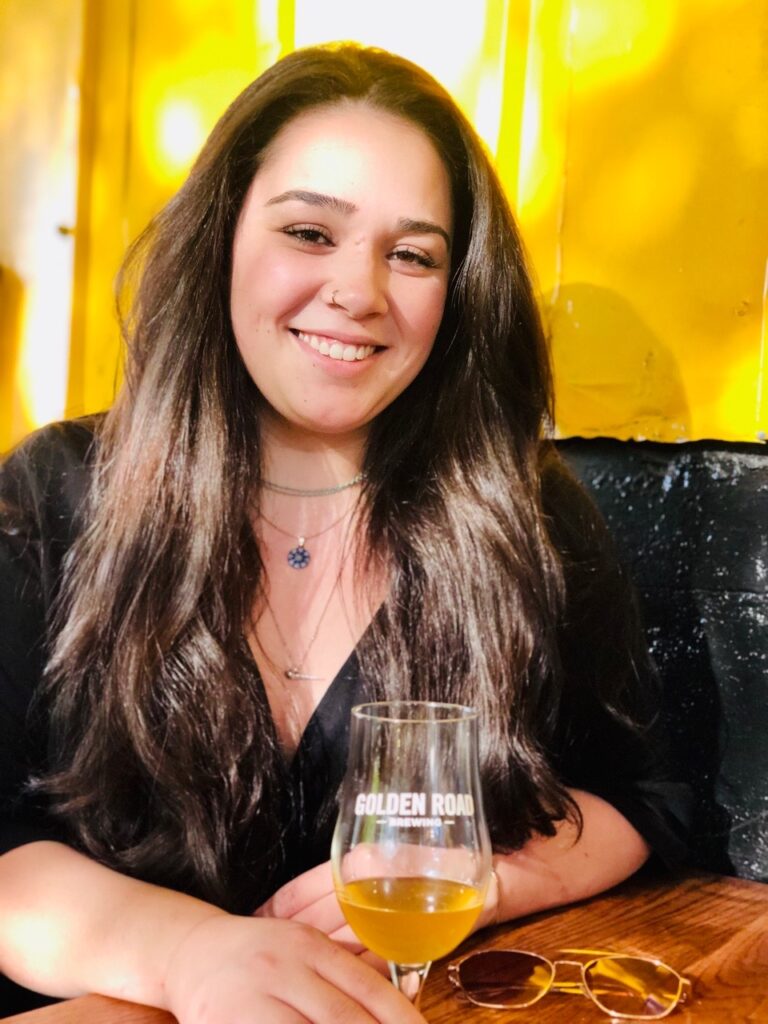 Victoria is an NYC-based pastry and cannabis chef who caught my attention through her work with famed chef Miguel Trinidad's 99th Floor Edibles private infused dinner series in NYC. We crossed paths on Instagram, exchanged a few emails, and when she let me know she'd be in Southern California for a few days, we made a plan to meet up.
We headed to Golden Road Brewery, where we sipped on locally made craft beers – Double IPAs for me! – and got to know one another. Victoria is young, a hard worker, and a badass pastry chef working in one of NYC's most prestigious Michelin-starred restaurants, and I was just blown away by her hustle and desire to work her way up and learn more about the culinary cannabis industry. I was so impressed by her, and hope to work with her in the future, and just really love and admire her confidence and spirit.
During these difficult times, Victoria is sharing her knowledge via a weekly baking show called Knead to Know, hosted on Twitch, on a channel called Stimulus TV (now seems like a good time to tell you I don't know how to use Twitch. Victoria assured me she will help old-school Millennials like me). You can catch her here Sundays at 10am PST/1pm EST for all of your baking needs. Follow Victoria on Instagram here, and read below to learn more about her path to being a cannabis chef, working in Michelin-starred kitchens, and advice for up-and-coming cannabis chefs.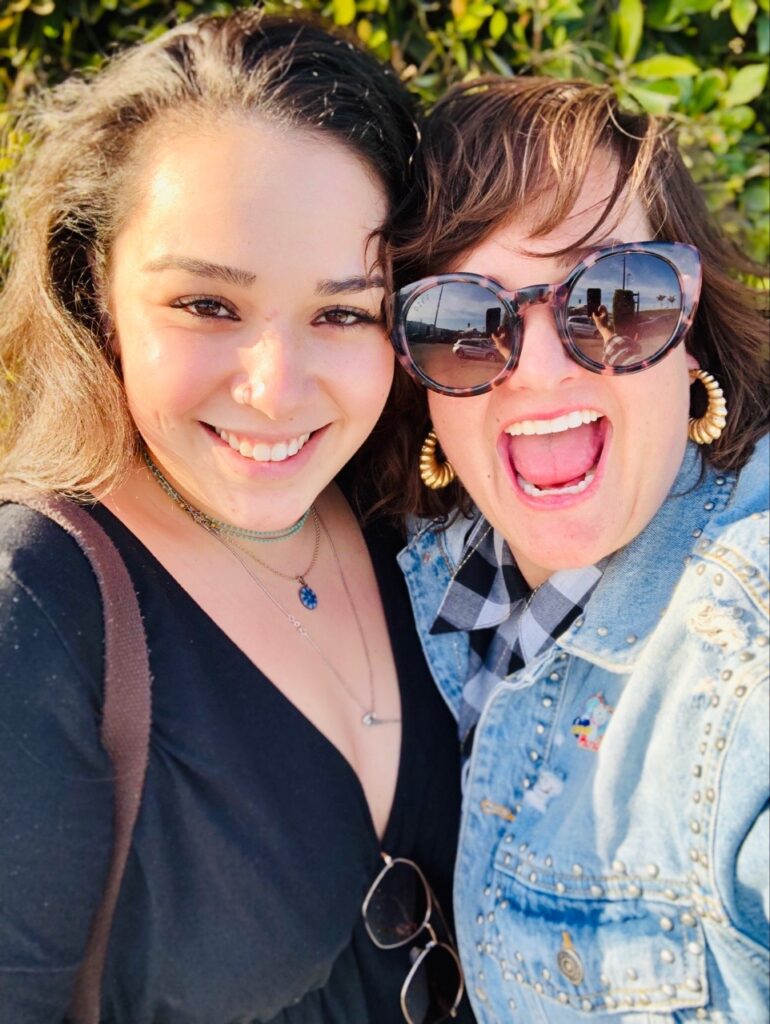 When was your first ever experience with cannabis, and what was it like?
I guess you can say I was a late-blooming stoner because I didn't finally try cannabis until my senior year of high school. The experience was…embarrassing to say the least! I was definitely a noob when it came to smoking, and was with my friend and her older brother. I knew it was finally going to be my first time smoking, so I was trying to act all cool and composed. Her brother packed his bubbler up for us to take a hit off of, and he was nice enough to set me up and light it up for me. I'd never smoked before and surely hadn't seen a bubbler. And you think that it would be pretty self explanatory; you burn, you inhale, you get high. But instead of inhaling, this girl (me) decided to exhale into the bowl, blowing all of the ground buds out of the chamber, with a stream of water to follow. Yeah, total pro here. We repacked and smoked the bowl, and I was honestly underwhelmed. I felt a bit of a lightheaded buzz, but really none of the psychoactive effects I was anticipating. It wasn't until the overambitious second time I toked that I realized all the beauty cannabis had to offer.
Did you always know you wanted to be a chef? 
I wouldn't say I knew I always wanted to be a chef, per se, but I knew that I wanted my career to end up in the food sector, and as I got older, I knew I wanted to marry the idea of culinary and cannabis. Before I started cooking professionally, I never knew the amount of chutzpah it takes to be a chef, and having only ever been a home cook, I didn't know the dynamics of a proper kitchen either. After pursuing my BA in Business Management, I went into the job field for about three years before I had my "A-HA!" moment. I realized then and there that the next step I needed to take in life was to go to culinary school and test the waters of the pastry world. Within a month, I had quit my job and was enrolled. Upon going, wow did I just flourish. I have never excelled at anything so naturally in my life, and even in the classroom I quickly took a position of leadership amongst my peers. After getting pep talks from my instructors in school, I realized that I wasn't going to move on to work in a bakery; I needed to get my hands into a proper NYC kitchen. 
How did you end up cooking in a Michelin-starred restaurant?
My culinary school, ICE, was so solid at job placement after school. That was one of the main reasons I decided to go there in the first place. Most of the instructors there have worked in some of the best kitchens in the city, and if they didn't, they know many who did. So that network was absolutely key. To complete my curriculum, I had to do an extended externship program, and I decided to go big or go home. I only applied for my externship at Michelin restaurants because I realized if I could flourish there straight out of school, I could flourish anywhere afterward. After my externship ended, I was immediately hired and quickly rose in ranks, becoming the Sous Chef there within a year and a half of entering the industry. 
What is it like to cook for/in a Michelin-starred restaurant? Do you miss that right now in quarantine?
I feel like the new cook in me would answer very differently than the slightly more experienced chef I am now! Maybe I just speak the language of chaos a little more fluidly now. It's sincerely pure bliss to work in that environment – but not for the faint of heart. I think I'm in a unique position because the restaurant I am in is truly the most family-oriented kitchen I've seen or heard of in NYC. That said, you are just constantly receiving information all the time. You can look in your peripheral vision and always be learning, tasting, or smelling something new. You have to always be five steps ahead, or you have already fallen behind, and you always have to be prepared to catch the curveballs and throw them back ten times harder. Working in a Michelin kitchen has also given me the skills to multi-task and teach on a much grander scale, turning over new leaders in our industry. That has been the biggest blessing of this: Seeing the successes of those working under me. I miss my kitchen family now more than ever. I miss teaching, and I miss collaborative creations on both the savory and pastry side. Like many who have chosen this path, being in a kitchen offers a fulfillment that can't quite be paralleled with anything else. That fast-paced living becomes synonymous with our deep breaths of relief. It's hard not to have that anymore. 
Was there a "lightbulb moment" for you with cannabis and food? 
I've had a few lightbulb moments around cannabis and food. Back in my early stoner days when I was experimenting in the kitchen and making copious amounts of edibles for friends, I saw the obvious potential for cannabis treats to be the wave. But as legalization started to happen across some states, I soon realized exactly how quickly that market got flooded. But then my business mind kicked into gear, and I turned on a few more lightbulbs about how to bridge gaps within the culinary cannabis industry. I am currently working on ways to make those lightbulb ideas some to fruition. 
What is your preferred way to consume cannabis?
I'd confidently say I'm a paper girl. I love puffing on a beautiful cone J, or better yet a Dutch. I'm not sure if this is part of New York culture, as I've said the term "Dutch" to many non-New Yorkers and am left with a look of confusion, but a beautiful Dutch Masters Blunt just hits like nothing else. Just typing this now is making me pause before going to the next question because I need to roll and puff now!
What's a 99th Floor dinner all about? What might it look like in the future?The mantra of 99th Floor is to "destigmatize cannabis through the universal language of food." We want to break down that fear of cannabis consumption and show that an elevated experience can be done in an intricate, beautiful, elegant and safe way. I think nearly every consumer of cannabis has had an experience with an overdosed edible that made them paranoid, and for some, may have turned them off from ever trying cannabis again. Our goal is to redefine the relationship between the user and infused foods. During our experience, you have the opportunity to dose up or down if you'd like so you can listen to the way your body is interacting with the cannabis. The future is infinite, with the industry being defined as we go.  
What is your signature dish or infusion?
I'd say maybe my most common infusion is shatter in caramels. As I'm cooking down the caramel, I use the high heat of the caramel cooking to decarb my shatter. This provides a beautifully rounded flavor and dank, really weedy notes that are buttery and caramelized. It's such a delight taste-wise. I've used this method to make everything from chocolate-covered butterscotch bon bons, banana caramel for plated desserts, or caramel corn for snacking!
If you had to eat one style of cuisine for the rest of your life, what would it be?
Oh my god, that's a loaded question! I'm thinking deep because, you know, this is the rest of my life here! I'm gonna go with Spanish cuisine. It's such a melting pot of cultures. With flavors from Greece and Italy, influences from Muslim cuisine, and tastes from across the Mediterranean, it's almost like I'm cheating because I get like five cuisines in one!
Who is your favorite person to get high with?
Asking me to pick favorites is a dangerous territory! I gotta say it's a tie between my homegirls. I've been smoking with these some of these cannababes for over a decade at this point. For Christmas one year, I got all of them these gold-plated lighter cases with a gold pot leaf on it by a company called Blunted Objects. If you got one of those golden gals, you're my favorite person to get high with <3.

What is the most important thing you can teach your guests?
One thing that's important to educate about is the way in which various ingestion types affect the body. From smoking versus ingesting alcohol tinctures, versus flower-based oil infusions, etc, each metabolize differently in the body through absorption. It's important for guests to learn how to ingest safely, and to be frank, patiently too. We often have guests asking for things to be double-dosed because between the first and second course they haven't felt anything yet. But as we know, edibles offer a slow release, and between blinks of an eye you can feel its effects. Sometimes a little education or just a gentle reminder of that is very important for the guests. 
What is your favorite thing about cannabis?
This may be a weird answer, but I feel like people that have stoner circles will understand this. I love the authentic relationships cannabis has brought in my life. I feel like a lot of the bonds I've made, especially in my early twenties, have all revolved around a smoke sesh. I've met so many creatives, many of whom are my best friends today and are part of the reason I am where I am today, through the power of cannabis. These people are like my family, and I am forever grateful for that gift. 

14. What is your favorite thing about cooking with cannabis?
My favorite thing about cooking with cannabis has to be its versatility! There are so many ways to incorporate cannabis infusions into cooking. Everyone's first edible probably started with a sludgy looking butter block you infused in a crock pot or something. That's just a right of passage. But as you dive deeper and refine the way you're able to infuse, the more you see how beautiful the process actually is and all the different methodologies you can use. You can look at a recipe and pick apart the ingredients and easily find a couple of ways to infuse a dish. Even after nearly a decade of experimenting, I'm still figuring out what cannabis has to offer. Being able to continue to learn about the plant and what it's capable of has to be my favorite thing. 
What is the most underrated ingredient?
I'm gonna say that salt is the most underrated ingredient. Its ability to enhance a dish is insane, and as we know, there is nothing worse than poorly seasoned food. Salt isn't meant to make things taste salty, it's meant to bring out flavors and elevate them. And while kosher salt is the unsung hero in all kitchens, the real shining stars are finishing salts. I LOVE large-flaked salts that offer not only great flavor but a lovely crunch. Adding a sprinkling of Maldon salt to a super dark chocolate dish makes it go from sweet and delicious to drool worthy and cravable. 
What is one dish you will never order?
You will hardly ever catch me ordering a chicken dish. That is, unless we're going to get some fried chicken!
If you could eat at any chef's table, who would it be and why?
Francis Mallmann. His style of cooking is just stunning in its orchestrated simplicity. I feel like the experience he creates around food culture would leave you with stories that you would tell your grandchildren one day. 
What is the most memorable meal you've ever served?
The most memorable meal I ever served was at the last 99th floor dinner of 2020. I made this delicious craquelin profiterole with a banana jam, chocolate cremeux, espresso créme anglaise and oat streusel. It was such an epic dinner in so many ways. With about 200 guests, it was easily the largest seated dinner we had done. The event space was just stunning, and we had a DJ accompanied by a live electronic cellist who was just crushing it freestyle. The vibe in the room was filled with intense energy. That night was extra special for two reasons, the first was because Food and Wine magazine was there to do a spread on our work, which was crazy exciting. The second was because I invited my parents to this crazy cannabis infused dinner party, which was just a dream come true. I got to share my hard work and experience with them. It took both my passions, cannabis and cooking, and in the most tangible way, I got to serve them my creations and see their proud stoney eyes just smiling back at me. After I presented my dessert and had a room of hundreds give me a roaring applause, I was walking back to the kitchen and my mom and dad were standing there in glee. I hugged them, and the room erupted in another bout of applause. That's a moment I might not ever be able to top. Food aside, it might have been one of the more memorable experiences of my life. 
What advice would you give aspiring cannabis chefs?
First, realize that this needs to be taken very seriously. It's one thing to just experiment and have fun in the kitchen, but being a cannabis chef comes with a lot of responsibility. Do your homework, and read and educate yourself as much as possible while you are pursuing this industry. Use proper techniques to infuse accurately and safely. With that being said, also, don't overthink it and have fun! There's a lot to be discovered in the world of culinary cannabis, so with an open mind, the world is your oyster to infuse!